Podcast: Play in new window | Download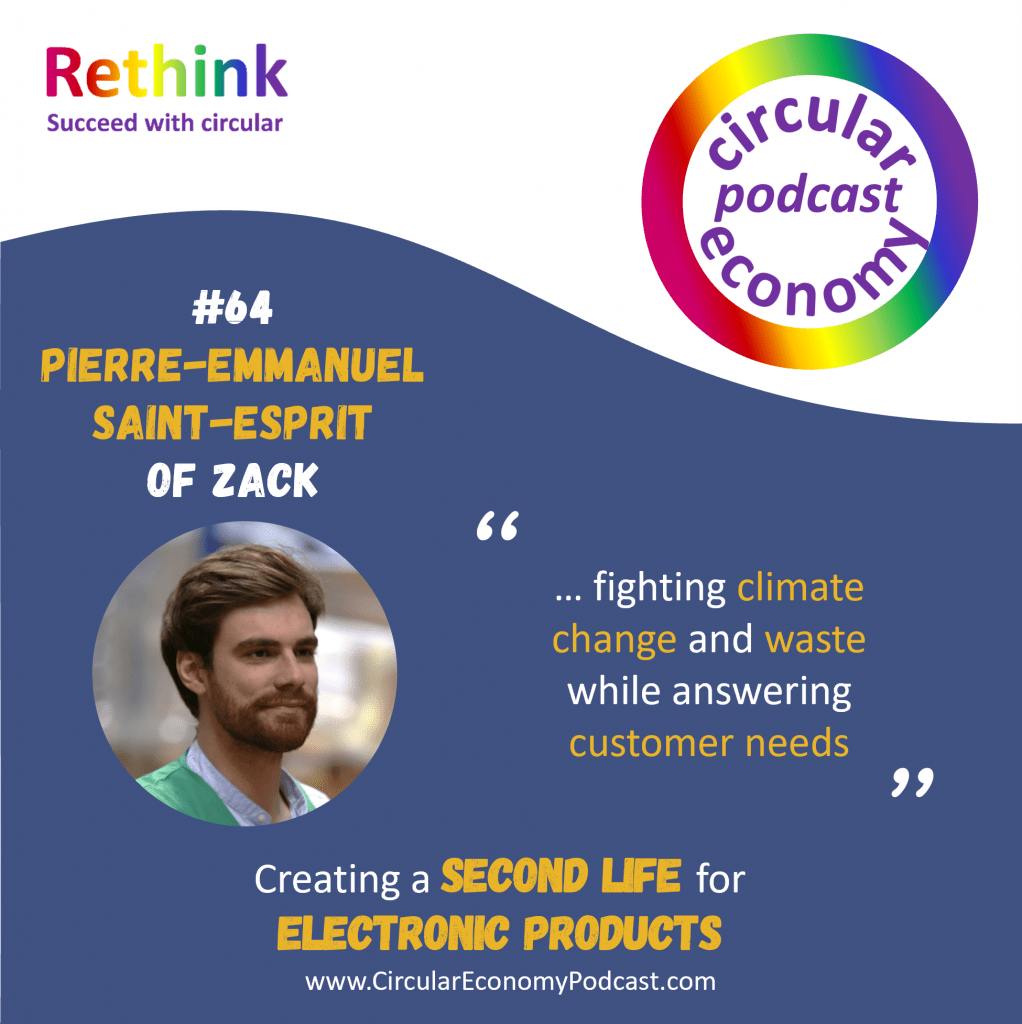 Catherine is with Pierre-Emmanuel Saint-Esprit, the co-founder of ZACK, France's leading company enabling the second life of electronic products, through recycling, repair, resale and donation. Last year, the TECH FOR GOOD report by the Presidency of the French Republic named ZACK as one of the top 3 French circular companies.
Pierre-Emmanuel has won multiple awards, and is nominated in the Forbes France 30 Under 30 entrepreneurs list.
Pierre-Emmanuel is also Professor of Circular Economy, President of the ESSEC Alumni Entrepreneurs Club, pioneer of the Ellen MacArthur Foundation for the Circular Economy, among other mentoring and advisory roles..
Pierre-Emmanuel explains how his MBA in entrepreneurship at Berkeley, California, helped him create a business to fight climate change, and reduce our pressure on natural resources.
We hear how ZACK co-founders tested their minimum viable product concept, so they could get clear on the value proposition. Pierre-Emmanuel explains how ZACK works with customers through the process, understanding the potential outcomes for the end-of-use products, processing the equipment and building up detailed impact and financial reports for customers.
We discuss the cognitive bias we all suffer from, where we focus on the short term, often favouring the lowest price, and Catherine recommends Wilful Blindess, an excellent book by Margaret Heffernan.
Podcast host Catherine Weetman is a circular economy business advisor, workshop facilitator, speaker and writer.  Her award-winning book: A Circular Economy Handbook: How to Build a More Resilient, Competitive and Sustainable Business includes lots of practical examples and tips on getting started.  Catherine founded Rethink Global in 2013, to help businesses use circular, sustainable approaches to build a better business (and a better world).
Stay in touch for free insights and updates…
Read on for a summary of the podcast and links to the people, organisations and other resources we mention.
You can subscribe to the podcast series on iTunes, Google Podcasts, PlayerFM, Spotify, TuneIn, or search for "circular economy" in your favourite podcast app.  Stay in touch to get free insights and updates, direct to your inbox…
Don't forget, you can use our interactive, searchable podcast index to find episodes by sector, by region or by circular strategy. Plus, there is now a regular Circular Economy Podcast newsletter, so you get the latest episode show notes, links and transcript delivered to your inbox on Sunday morning, each fortnight. The newsletter includes a link to the episode page on our website, with an audio player. You can subscribe by clicking this link to update your preferences.
Links we mention in the episode:
About Pierre-Emmanuel Saint-Esprit
Passionate about the circular economy, Pierre-Emmanuel Saint-Esprit co-founded ZACK at the age of 22 while studying at ESSEC and the University of California Berkeley.
ZACK is the leading company in France in the second life of electronic products and the extension of their life (recycling, repair, resale, donation to associations). In 2020, ZACK became one of the top 3 French circular companies according to the TECH FOR GOOD report of the Presidency of the French Republic, with Phénix and Castalie.
That same year, Pierre-Emmanuel won the vote of all BCG employees for the social entrepreneur of the year award. In 2021, he was included the top 50 of the Giverny Circle x Le Point of young committed leaders under 40 who contribute to the acceleration of the digital, ecological and social transformation of France. 
Pierre is also nominated in the 30 Under 30 ranking of Forbes France which devotes a list of rising stars of the French entrepreneurial ecosystem.
Pierre-Emmanuel is also Professor of Circular Economy, President of the ESSEC Alumni Entrepreneurs Club, pioneer of the Ellen MacArthur Foundation for the Circular Economy, mentor at Antropia ESSEC, Ambassador of the IMPACT FRANCE Movement and Executive Director of the ESSEC Global Circular Economy Chair.
Pierre-Emmanuel is regularly invited to discuss the challenges of the circular economy and its progress in France (UEED 2020, BFM TV, Le Point, Le Parisien, Le Figaro, Produrable, LH Forum, Cercle de Giverny and others).
Interview Transcript

Provided by AI
Catherine Weetman 
Pierre-Emmanuel Welcome to the circular economy podcast!
Pierre-Emmanuel Saint-Esprit 
Thank you very much. I'm very happy to be here with you today.
Catherine Weetman 
And I'm curious to know, first of all, a bit more about your background and how you came to start ZACK.
Pierre-Emmanuel Saint-Esprit 
Yeah. Well, whereas simply I did some commercial school. And I had a master at Berkeley, University of California, Berkeley in entrepreneurship. And I just wanted to confirm the company. And what is incredible with circular economy is that you can you know, at the same time, you can do business and create an economic model where could people create some values, and at the same time, you respect the planet, and you just build a case where you won't, you know, exhaust the Natural Resources, and it will help the fight against climate change. And it is what was quite fascinating for me, I my parents are not, I will say ecological background minister, I didn't grew up in this. And what we wanted with ZACK, were just, you know, to us to, to create an economic model where we can help with our ends with our minds, the fight against climate change, and against the fact that we use too many too many natural resources each year.
Catherine Weetman 
So did you go into the MBA with the intention of starting something that would help fight climate change? Or did that emerge as you were learning more about what was happening and so on?
Pierre-Emmanuel Saint-Esprit 
No, yeah, no, it was it emerged during them during the MBA at the fact is that we we needed to, you know, to form some groups of students to with just two other students project, and my co founder came with his idea to help people to get rid of stuff, you know, use test very easily, and destroy today that quite complicated when you ever use stuff at home, to find the right way to recycle them, to find the right way, maybe to transfer money. And our first idea was to, you know, to go door to door to door in the Berkeley neighbourhood, and we were with some boxes in our hands, we were asking people around the wrong bag fee if they have any steps they want to get rid of. And just the way, they gave us a lot of things, not only electronic products at this times, and our idea, our value proposition was to say, well, we come back to you in maybe five days, 10 days, with with some money, because we will be able to sell it on marketplaces such as eBay, such as you know, Craigslist, in the USA. So it was really the beginning of that it was not really only about climate change, it was about to create a solution that answer a customer needs and at the same time is able to to fight against, get waste. And you know, against climate change. And my conviction is really that we have to do both at the same time to embark maximum of people possible. And to be sure that we have a massive transition.
Catherine Weetman 
I agree. In the last episode, where I do every 10th episode, I do a round up of themes for various episodes. And what had been on my mind was the focus of most businesses switching to circular, being more about including some recycled content, making things more recyclable, or switching to new generation materials, or none of that is really addressing the bigger problem. You know, none of that really makes much difference to carbon emissions, because all the recycled materials take a lot of energy to produce. So I started to focus more on, you know, how do we help make the case for extending the life of products or putting them into sharing systems and so on. But obviously, we've got to close the loop as we've got to close the loop as well. But it's got to be, it's got to be more about, you know, the whole system has that not just tinkering a bit with the makeup of what you're producing.
Pierre-Emmanuel Saint-Esprit 
I'm sure we will come back on this later. But it's quite complicated to to find the right model, as you just mentioned, that a lot of people are trying to do some circular economy trying to find a sustainable solutions. What we have funded, so it was in 2015, we were back in 2015. It's very different to what we're doing today. I think we explained something like five economic models from 2015. Well, 2021, because a lot of things, a lot of parameters too, just to see such as, of course, the Christian will like what we do, and are we able to have a massive customer acquisition? And is it possible to earn enough money with that economic model and to have, you know, structure that can last over the years, and so on and so on. So, it's very complicated. Sometimes you have, you know, you have some ideas, you things are perfect, and it's very easy. It's abuse to implement it. And then maybe it's markets as a different direction to what you were feeling. So yeah, we need to try. Maybe in a few years, it's going to be easier because the society and just audits will be more secular. So it would be easier to implement numerals with fun. Now, most of the time you you fight against, you know, added from the past.
Catherine Weetman 
That Yeah, that's fascinating. And you know, it's pretty inspiring to hear that you've gone through five different economic models. So it's kind of keeping to evolve and and pivot on the on the route of On the way to finding out finding something that really works to make the business financially sustainable. So perhaps you could explain a bit more about what Zack actually actually does. Having started with that minimum viable product back in 2015, collecting from people's doors, what does what does it look like now?
Pierre-Emmanuel Saint-Esprit 
Yeah. So basically, what we want to do is to give a second life to every used electronic product, the idea is to eradicate your waste. And you know, a lot of products are directly considered as a waste. So we go into a company's headquarters, and we'd pick up every used luxury products and accessories. So it could be computers, it could be funds, it could be scanners, it could be a lot of different things, then we make an inventory of every electronic products in our logistics centre. And we can say that, thanks to these inventories, that this product can be set it can be solved sorry. So it can be you can have another use in another life, this product can be given to charity, this problem maybe can be repaired. And finally, this is the last solution. So product is recycle, if it is not possible to do to do something else. So I think we're really lacking this, a lot of products go directly to recycling, and sometimes go directly into streets or into our oceans. But sometimes we say, okay, it's perfect, because this is recycled. But, of course, as you say, before, recycling consumes a lot of energies, most of the time, we're not able to recycle everything in the product in the ballpark. And everything then is a waste in in burning, I will say. So the idea is to optimise as a single added product. And then 30 days after the peak of the products inside the company, we come back with a final report. So we are able to say, Okay, thank you actually, we have sold your products for 2000 euros. So this is a win win. And we come back with so with a big CSR report. In the CSR report, we indicate our match co2 emissions as been avoided thanks to this action, because new Natural Resources won't be extracted. One, one travel all over the world. And so we give a lot of information about the volumes of products about the specific Natural Resources contained into the product such as lithium, terra , rare rarefied – I don't know how to say it in English!
Catherine Weetman 
rare earth minerals, yeah, yeah,
Pierre-Emmanuel Saint-Esprit 
thank you. And then and then this report can be integrated, you know, in extra financial reports of the companies. And we know, after the covid 19 crisis, and maybe there is a momentum, a lot of companies are looking to reduce their emissions. And now looking also to to have some proof, and to have some figures and numbers about the action. So this CSR report is, is very important. And to show really, what does it do, really the impact, and also great traceability of the products, because everything, this is our choice, but everything is solved given or recycled in France. So we are sure that we don't produce emissions by making all the products travelling, it is our choice, because if we want to launch a country, for example, Spain or Germany, we have to rebuild everything the entire logistics supply chain, but because if you collect some product in Spain, and then you make them travel into France, it's complicated at the end to have, you know, a good carbon balance in the same bed. But this is what we do. And we have also a service for customers. So for individuals, if you have any items at home, so in France in Belgium, you can use our website – that's Zack DOT eco and the idea is to create a reverse marketplace. So very concretely, on a basic marketplace, you can buy something on a reverse marketplace, you can get rid of something. And the reverse marketplace is going to indicate you what can be sold or what can be given or what can be recycled, and you have a wallet, such as a religious wallet or a bank account is about going to credit your bank account with the with the amount we have been able to receive thanks to the sending of your products.
Catherine Weetman 
So really full solution then for both businesses and customers. And just coming back to the business CSR Report. I'm interested to understand a bit more about how you quantify them. The materials impact is that at a generic level, so you know, a laptop would typically be a laptop that's reused will typically save this much carbon. You know, this ghetto will contain this much plastic or is it a kind of specific manufacturer model level of detail. So you know, an iPad is this Samsung tablet is is different.
Pierre-Emmanuel Saint-Esprit  
Yeah, thanks to our past activities and past economic models we have built, we have a lot of preferences in our data system. Because in 2018, for example, we made some estimation of products. So you you had an estimation of your product between B to D before you get rid of that. So we have a lot of big data infrastructure with a lot of references of electric products. And we were just a range that we added things that for this reference, so for example, an iPad in 2018, in this state and so on, if you re… if you give a second life to this product, so you don't recycle it, you don't dismantle it, you're going to spare external equivalent co2. So this is for each reference, we are able to say that and that what we do thanks to the inventory, we calculate line by line, item by item, what has been spelled saying to that, of course, when it comes to an for example, accessories, such as I don't know, lighter or some small accessories, this is a rough knowledge. Yeah, my generate calculation, but we we wants to do something very specific and to be very precise, to be to be sure that there is not greenwashing, which is really a true engage action, to fight against waste and to reduce the environmental footprint of public content.
Catherine Weetman 
Hmm – good stuff
Pierre-Emmanuel Saint-Esprit 
We've been, we've been – this model has been validated by the ADEME. So the French agency for the government, because relevant by ADEME – it's called autopris en gadget, Partenaires d'Ecologic, so a company fighting for the ecological transition in France, and we are able to deliver a new world of certificates to the companies that fight waste with Zack service. It's a certificate that really, well, certifies basically, that this company does true actions against against this display.
Catherine Weetman 
So there must be quite a lot of IP included in all of that intellectual property, you know that that's part of your company's service specific offer?
Pierre-Emmanuel Saint-Esprit 
Yeah, well, we're not very good at that to be to be honest. Maybe because we're still quite young entrepreneurs and maybe a bit naive. But, but we're not very good at the intellectual property, I would say, but yet we have to protect. We have to protect our science, I would say, to dig more deeper into that.
Catherine Weetman 
Yes, yes. So just going back to the transactions that you have with individual people, do you give them when when the products come in and can be reused? Do you apply a standard to those that gives people an insight into how good the condition is? And do you offer a warranty to sit behind the reused products? How does all that work?
Pierre-Emmanuel Saint-Esprit 
You mean, financially speaking, do we give them a reward, a financial reward?
Catherine Weetman 
Now when you when you sell on the re…, so any products that have come in from one customer, you've inspected them decided they're good enough for reuse? So they then get sold on? Are you selling them directly to other people? Or do they go into another another reuse partner? How does that work ?
Pierre-Emmanuel Saint-Esprit 
Yeah, well some some of some of the devices are reconditioned refurbished by by our factory, but most of them are sold to other refurbishers. So professional refurbishers in France, okay, on the France territory, and just repair the product, refurbish it totally and then able to sell them on other marketplaces. So the idea really, we have traceability all along the chain, we are able to save this product can be reused, he has been repaired and refurbished by the sector. And then he has been sold Finally, a certain time. For example, on batmarket. We have four we have four clients a lot of refurbishers in France.
Catherine Weetman 
Right, I understand. Yeah. And and hopefully, all the capabilities there in terms of partners that you can link up to that do refurbishment remanufacturing hopefully that's all the growing market as people realise that. You know, there's so much stuff going to waste that that could be repurposed,
Pierre-Emmanuel Saint-Esprit 
What we want to do and what explain those. So the evolution in terms of economic models from Zack that we want to to convince the maximum refurbishers to accept new types of electronic products. For example, nowadays everybody knows that you can repair an iPhone or MacBook It's a big market on the secondary market and very lucrative market. But sometimes you have other types of products where refurbishing is not a good idea because there's not going to be a demand for for second use secondhand items. And our goal is just to say, well, you can try, you can try to maybe to take back this, I don't know, to Android devices, and maybe we'll find something, you will find some interest, you are going to create a signal and market on this category, you're going to be a pioneer and you're going to earn a lot of money by doing so. So the idea is really to expand the market and circular economy. Because at the very beginning of Zack, we were doing on Apple products, because it was the only way to to do to do some at some business. And we wanted to expand the emphasis the story of the last model, we wanted to expand finally, to a lot of different electronic products and a wide array of electronic products. And to be sure that really we were fighting, you know, e waste and not only on this specific category, and maybe helping planned obsolescence of the the upper bound. So this is really something we have everybody to work on to be sure that circular economy is not reduced to only some some products and some categories of industrial specificities also why it's just it just really a drop in the water.
Catherine Weetman 
And are you able to give any advice to your customers in terms of what kind of products they should be looking to buy in the future so that they can maximise the reuse potential in our contract. So for the for the next batch of purchases, you know, if you, if you buy this brand, it's unlikely to have much reuse value. You know, because it costs so much to to open it up or it's all glued together. So it's a nightmare to try and refurbish it. Whereas if you buy this brand, it's likely to have more value is is that the kind of information that you can that you can give people to help their future purchases?
Pierre-Emmanuel Saint-Esprit 
It's not easy, but we will try to add some parameters, for example, the durability of the product, of course, if the product is, you know, a design with a co conception and so on circular design windows that this project is going to last the years it could be a good a good investment. Sometimes it's not really a question of investing in a new brand or in a new product, but just to realise that there is a market and not only for brand new products, for example, I don't know the term in English, but you know, what you use in restaurant to pay with a credit card or anywhere? Yeah, yeah, the,
Catherine Weetman 
for the for Yeah, yeah, the card terminal
Pierre-Emmanuel Saint-Esprit 
Yeah. Well, you have to know that a lot of shops change very often, the payment terminals because they need to have, you know, the latest one. But you may be next door, you have a bakery or you know, fashion shops that do not care does not get what the latest one, and maybe it's going to be very interesting in buying with 40% less. And then in the whole generation of payment terminals. And so this is not really about inventing a new product or make a bed just realising that there are different types of customers of interest. And maybe there is one for second end products, because this is of course, cheaper. And this is rocking the same with with some durability built inside products.
Catherine Weetman 
Yeah. And I think in tech, the difference between the brand new product and the, you know, few years old product is getting closer and closer isn't that we've, we've done interviews with circular computing who do laptops and laptops from Dell, Lenovo, and HP and also tech buyer who do enterprise servers and storage refurbishment. And so you know, both of them are working on a few years old, but that, you know, the performance standard is is up in high 90s compared to the to the new one. And so, just coming back to the business case for your business customers, the ones giving you the product what what are the benefits do they get so you give them the CSR report? Are they avoiding a cost of disposing of a waste? Is that a benefit for them as well?
Pierre-Emmanuel Saint-Esprit 
Yeah, you know that there are different things. First they can I earn some money, because if our service cost is lower than the amount we were able to get from the products At the end, we pay the company for this quite innovative to be paid by, by a service provider will say, and it depends 70% of the time. So this is where often, and this is really lost value, if you don't come if you don't use that, because a lot of companies realise that it can extract some financial value from their products, because they try for the first time or service. So this is really something that cause you to try, then you know that in France, each individual pays an Eco tax when he buys. Or she buys an extra many products, as to this eco tax go directly to what we call eco organisms. So quite public organisation, which have to organise the signalling of all electronic products and other type of waste. But of course, the title, and I'm not sure in French, you have an obligation for companies to pay cost of disposal for every types. And every year, we say, size of companies. So a lot of companies are already avoiding. Because as an I don't think there is a lot of control. And there are a lot of companies that whatever I'm not obligated is that mandatory for them to, to pay, because of this product for the waste, and most of the time electronic products and industries, when you're moving out, and you need to really quickly get a lot of products to which you want to use in your new offices. And most of the time, yes, you can, you can just discover a lot of things industry, just because it was a there was no solution for for visa for the secondary products for most of our clients, which is quite, quite interesting. I had no previous service to to get rid of electronic products. So we are not replacing those IDs, because we are better just a first time they were thinking about getting rid of signalling it while respecting the environment, especially for SMEs and for startup and scale up because the new companies, of course, I have not explained we are working also for some public services organisation. Budget, this is also true for quite companies. So for example, CAC 40 companies in France, because the maybe the other contracts in the past with a recycler, but don't know really what was happening, what is the contract, this is quite, you know, in the grey area, and are very happy to come back with a service present figures with some images with some clarity and traceability. And of course, a result at the end of the impact on the same permissions.
Catherine Weetman 
And just to clarify what you what you were saying at the start of that. So you give companies an estimate for what it's what it's going to cost them to have Zack process this equipment, and then in 70% of the cases, you're able to reduce that cost by giving them something back from the resale and so on. So that's that's a big bonus for people, isn't it? Yeah.
Pierre-Emmanuel Saint-Esprit 
I can I can I mean, yeah. This is quite incredible about circular economy is that if you just respect the environment, and you You are smart whaler, were using resources and while consuming, at the end, this is a win, win, fight buddy win for the service provider, of course, but win for the company win for the environment, everybody wins something. And at the end, this is a financial benefit. And of course, maybe you will have also benefits in terms of brand new communication in terms of, of course, to the CSI, but you can you can prove to your investors that you are respecting the environment, and maybe you're going to maybe I don't know, it's going to be easier for you to get some money from the banks or if public and so on. Because this is something that is really important today to raise money. So everybody wins at the end of the day, if you if you choose to be solution with
Catherine Weetman 
Yeah. And then there's a there's another big benefit of using Zack in terms of the social impacts, you know, there's another part of your business model that that makes a big impact in terms of the people working at Zack, can you explain a bit about that for us Pierre-Emmanuel?
Pierre-Emmanuel Saint-Esprit  
Yeah sure with pleasure Well, this is quite simple our logistics centre which is located near Paris and the metaphor department that by nature map, it is a centre which employs people in a professional way in session. So for example, people That are learning French, because they don't master French enough to, to be able to walk in a classic company, I would say it could be some people that haven't worked for years. So they have lost a bit the habits, classic habits and which are mandatory to work in a company such as a respected schedule such as organisations such as our to respect management and so on. We have people that have fled there from some very complicated some from war countries, refugees from what countries, so you have a lot of different conditions, and the people can stay two years maximum in this logistic centre, and must have on average as I spent one year in this centre. And so the idea is that they train them into our logistic operations, as our train to learn to apply our way of doing things from Zack and then when you have servers it can come today to to other companies, and our rates are for instruction is very high, I think it's 90%. So, this is very sad things like that works. And that help people to earn to come from a complicated background and then to find a new job and a stable job, I will say, and circular economy and then and then we said CSR sector has really led the way in this in this example, because a lot of refurbishing companies, a lot of companies Yeah, in the circular economy sector, for example, I think to to visa, you know, the shoes as to enable shoes, have used them the professional wind session, as well. And because we want to link, you know, the impact on the environment, and the associated impact, everything is linked. So, you know, the values are quite, quite similar. So this is no, this is not a surprise that we choose which way of using logistic if we are a circular economy company.
Catherine Weetman 
Yeah, and it sounds amazing in terms of the the range of skills that they can learn and even just improving people's confidence because they're in a work situation. And, you know, they then got it got the right experience that they can talk about in in interviews, rather than feeling so adrift from working life that they, you know, it's an imaginary process.
Pierre-Emmanuel Saint-Esprit 
And this is a place where we don't share where we've come from. And we don't care if you made some some studies, we're just interested in you and what you can do, you are giving some, some responsibilities in so yet to tell you, right, you earn a lot of confidence by doing so. And then you can use this confidence to, to come out once and one more time to society, maybe a more wide world and maybe more. Well, that is maybe more complicated. But in this space, this is something that you are very protected. And you are trained to to be reinserted. Ready.
Catherine Weetman 
It sounds like a really excellent initiative and, you know, adding adding lots of value to all sorts of people. And what about plans for the next the next phase? Is this a is going to be a sixth economic model for Zack or something else? What have you got on the agenda for for the next phase?
Pierre-Emmanuel Saint-Esprit 
No, I think I think I'm Fingers crossed, we have found the right economic model some some new projects. First, we want to continue to innovate in terms of ways of collecting products. For example, we have a greater than the possibility for a company or 100% remote company to be able also to collect products from their colleagues. So basically, this is a digital tool. Everybody can send products from their homes. And then we do our service. We are also able to, to organise collects from collaborators. So they their own products, not products owned by the company but their own products. They can take them back into company offices. And then at the end we do the same service and we have also made a partnership with an artist which is who is able to to create pieces of art things to waste in so this is a type of upcycling so we really want to, you know, to Yeah, to be able to create just the ways of collecting that are going to fit for customers.
Pierre-Emmanuel Saint-Esprit 
And they're gonna help us, help everybody really to get rid of used products. Because most of the time, you don't have the time. You don't want to you want to do it, but you don't know how to actually begin. We want also to implement what we have created for the b2c customers that that they go into classic marketplaces. So the idea is that you are buying, for example, on Amazon, something. And at the end of the funnel, we're going to say, okay, you have bought this pair of shoes, maybe you have some old pair of shoes at home, do you want to get rid of this pair of shoes. And then if there is a carrier, or somebody that can have come at your door to deliver the new products, maybe it's going to come, it's going to take back also your old products, and then we're going to give this product a second life. So we know it's a total circular loop in terms of digital experience and supply chain experience. So this is more on the product side.
Catherine Weetman 
Mmm. And the waste legislation is is in Europe means you can't move things that are classified as waste across borders. And also thinking about the the extended producer responsibility regulations for waste electricals, they're implemented slightly differently across each country in Europe and the the way we do things in the UK, you know, from the the EU way of doing things was was slightly different.
Pierre-Emmanuel Saint-Esprit 
Yeah, that's, right.
Catherine Weetman 
So I guess I guess there's all that to get to grips with as well. And so over the over the years since a start up in 2015, what have you struggled with and on what surprised you in the process of building Zack?
Pierre-Emmanuel Saint-Esprit 
Yeah, which is, which is really frustrating. I will say it the fact that even if everybody said that, well, climate change, waste is a big problem. At the end of the day, you have a cognitive bias, which is really only linked to the short term enterprise. So everything is related to the price, you're going to buy something that you like, or use a service that you like, if the price is the lowest if you agree to the price. And when I say short term buyers, and so,  it's climate change, it's something we are realising, but we're not experiencing climate change every day. This summer was particular for some countries. But even if you know that is a problem, you're not going to change everything radically. Right now, even if you have the proof that there is a problem. And for example, we have a lot of companies saying, Yeah, this e-waste is a giant problem. We want to fight against waste, we are ready to give you e-waste. But we're not ready to pay for a service. That's going to take care of your waste and recycling in the respect of the environment. We don't understand why we have to pay for the second life of our products. In other words, we don't understand why we have to take responsibility for what we are purchasing into the waste reproduction.
Catherine Weetman 
Yeah, yeah, I think there's lots of evidence isn't that to say that people say they will prioritise the environment above other things. But then when it comes to the action, the cost is still a big part of that. And talking of cognitive bias, and I think I mentioned this on, it's not a not a podcast that has gone out yet. But I've mentioned it recently, a book I've been reading called Wilful Blindness by Margaret Heffernan. And in one of the chapters, she talks about how, in decision making processes when money comes into the equation, that kind of crowds out all other considerations, as soon as you bring money in, it's as if our brains can't cope can't prioritise ethics and morals and you know, any other factor over money. As soon as money's in there, it has to trump everything else. So that's Yeah, that's really interesting. And and I suppose the point of the book is to alert you to all the ways that you can, he can be subject to cognitive blindness, and, you know, willful willful blindness yourself so that you can start to spot those potential pitfalls. But that's a tricky one. Yeah.
Pierre-Emmanuel Saint-Esprit 
Yeah. For example, is the latest law in France, anti-espiage, so anti-waste law. And when this idea of durability index, so each electronic products, which are graded, saying that, in terms of durability, this is a good student, but shouldn't something that can last forever, or something that will need to be repaired? In when you want to? Yes, I see this is an excellent ad. But I'm looking forward to see if people change their habits, when they have you know, reprice this index and other products with maybe a higher price but with a better index, what will then what will they do? Is it really possible but they switch and change habits? Not sure about it, and then we have to look for the consequences and the first the first results in the coming years.
Pierre-Emmanuel Saint-Esprit 
Yeah, I agree. I'm thinking of comparisons of cost per 100 grammes of food and things when you're trying to compare, you know, some, some supermarkets have it on the shelf edge, so that you can kind of see whether buying the bigger format product is actually a saving or not.
Catherine Weetman 
Yeah, definitely.
Catherine Weetman 
And that's that's what we need is more more information isnt' it. And Pierre-Emmanuel, if you were to give advice to a business wanting to go circular or start something circular, from what you've learned so far, what would your number one tip be for them?
Pierre-Emmanuel Saint-Esprit 
Well, if you have an existing business, what is quite incredible in circular economy is that you can do some circular change all along the value chain. So you can begin by the conception, you can then look at your supply chain, you can, of course, look at your distribution model, you can just see if it's impossible to to create a service model. For example, renting, you can see if you are already taking care of your products as a second life of your products or not, if you can create a new business model, luxury companies have understood that very, very quickly, for example, you have a company called Watchfinder, that buys back some luxury watches. And it has been bought very quickly by Richemont, so the big group,
Catherine Weetman 
Yes,
Pierre-Emmanuel Saint-Esprit 
because they were able to do to a, they were selling two times the same product. And they had internally all the capabilities to check the watches and then to to sell them back. So my first thing would be you have to have somebody responsible in your company, at a very high level, looking at all your company, you can do some circular business in your corner, every company that tried to have a you know, a system level director or circular direcotor in a small corner with a small budget. With nowhere. we flip over overseas a bit the same for the public policy, by the way, you have absolutely no results. So cicular economies, but the ecosystem is about embracing everything you do, and making some synergies and making some links between your units. And so my first tip would be really considered what you had been doing, historically speaking, every capabilities you have internally, and I'm sure we have one, two, or maybe three, very quick, quick wins, cicular quick wins, can do very easily. And then the second tip would be build your ecosystem, which is also based on your partners and your clients. And most of the time, you can also much realise a lot of things with your existing ecosystem. You don't need to I don't know to create a lot of new connections, very complicated. circularity consulting companies and firms be quickly you can work with your existing ecosystem and make some some intelligent you better choices based on the data collection and material resources and the reduction of co2 emissions.
Catherine Weetman 
So yeah, get talking to them and find out who, who in your existing ecosystem is already thinking about circular and what the mutual opportunities might be. Thanks. That's that's an interesting an interesting tip. And yes, I remember spotting that news, I think it was a couple of years ago, wasn't it about watchfinder and reach mount? And thinking, you know, that's, that's an example of a company realising that its own business model could be undermined by circular. And so let's let's acquire the circular specialist. And erm, Pierre Emmanuel, who would you recommend as a future guest for the programme? Is there anybody you think would be good for us to interview?
Pierre-Emmanuel Saint-Esprit 
Yeah, we will come on so Maud Sarda I the most you already heard of her. She is the co founder, incredible co founder and CEO of Label Emmaus, which is one of the leading digital marketplace for second-hand products, so this is also the link between, you know, the impact, the social impact and the environmental impact. And she has managed to be an incredible ecosystem with a lot of people in terms of beneficiaries in terms of merchants. And it's working very well. This is a successful model. And she's very inspiring to describe what we can do to really build a circular model. So would be a recipe that you'll be invited by by doing a podcast for you and your listeners.
Catherine Weetman 
Thank you. I'll follow up with that. Some a while since we talked to anybody who had a marketplace. And again, the whole thing about reusing and prioritising that, instead of just, you know, some some new generation materials or a bit of recyclability, it's it's important to get those messages out. And how can people find out more and get in touch with you and ZacK?
Pierre-Emmanuel Saint-Esprit 
Yeah, so do not hesitate to use my email. So I will give you my email. This is PE at Zack, that Z-A-C-K. So if you want to if you have any questions, you want to know more about what we're doing. If you want to do some partnerships in France, or abroad to fight together against waste, do not hesitate to send out an email it will be with great pleasure.
Catherine Weetman 
Excellent. Thank you, Pierre Emmanuel, and good luck with the with the next phase. It sounds like you're going to be moving in all sorts of different directions on your mission to help create businesses that reduce climate impact, as well as reducing reducing waste and advancing the circular economy and the social enterprise side of things as well. So thank you very much.
Pierre-Emmanuel Saint-Esprit 
Thank you very much for the invitation.
Want to find out more about the circular economy?
If you'd like to learn more about the circular economy and how it could help your business, why not listen to Episode 1, or read our guide: What is the Circular Economy? 
To go deeper, you could buy Catherine's book, A Circular Economy Handbook: How to Build a More Resilient, Competitive and Sustainable Business. This comprehensive guide uses a bottom-up, practical approach, and includes hundreds of real examples from around the world, to help you really 'get' the circular economy.  Even better, you'll be inspired with ideas to make your own business more competitive, resilient and sustainable. 
Please let us know what you think of the podcast – and we'd love it if you could leave us a review on iTunes, or wherever you find your podcasts.  Or send us an email…
Podcast music
Thanks to Belinda O'Hooley and Heidi Tidow, otherwise known as the brilliant, inventive and generous folk duo, O'Hooley & Tidow for allowing me to use the instrumentals from the live version of Summat's Brewin' as music for the podcast. You can find the whole track (inspired by the Copper Family song "Oh Good Ale") on their album, also called Summat's Brewin'.  Or, follow them on Twitter.