A Circular Economy Handbook for Business and Supply Chains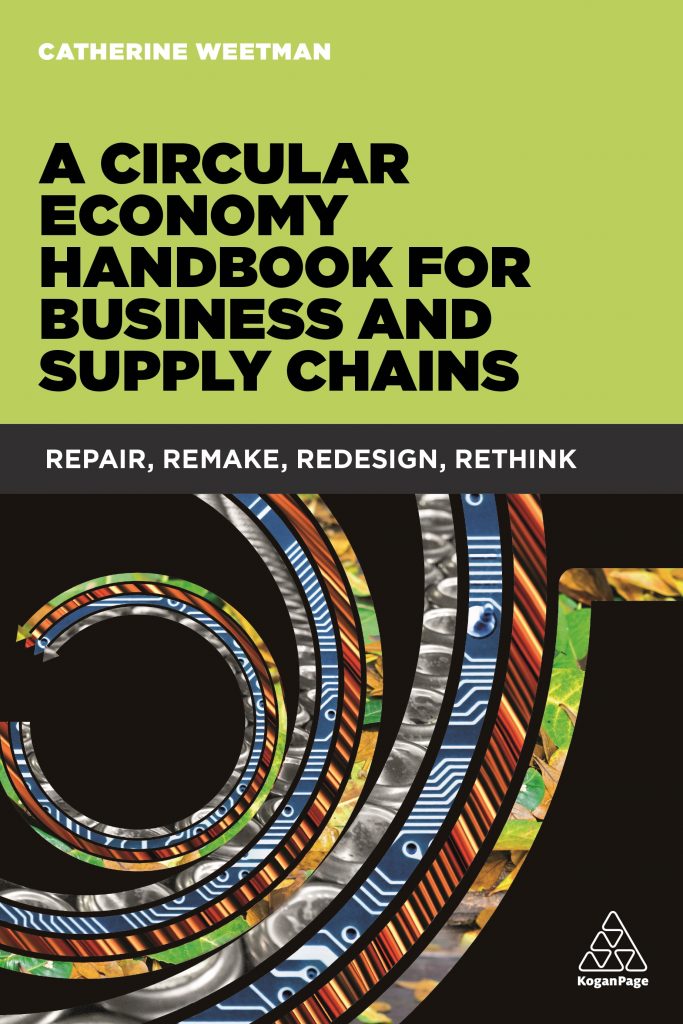 Winner of the Plumes des Achats Committee Special Prize in 2018,  A Circular Economy Handbook for Business and Supply Chains is easily digestible and comprehensive.
Focusing on the circular economy from a practical perspective, it avoids jargon and includes a glossary of circular economy terms. 
It covers the theory and fast-developing practice:  helping you get to grips with what it is, why it's better, and how businesses are using it to be more competitive and resilient.
The book features a wide range of examples of businesses large and small using circular approaches, to help you get ideas for your own project.  Specific chapters cover the current issues and emerging circular approaches for:
Food & agriculture
Fashion & textiles
Consumer electricals & electronics
Industrial manufacturing
Available from Kogan Page or your favourite bookshop, and also available in Brazilian Portuguese. Click the buttons above on the right to go straight to the book page   >>>
Please get in touch to ask Catherine about speaking or running a workshop at your event.
Read on to find out more, including:
To help the reader generate ideas, A Circular Economy Handbook for Business and Supply Chains provides a simple framework for the design and supply chain and supporting business models and includes tools the reader can use to get started.
Whilst growing global consumption presents fantastic business opportunities, our current linear systems (take some materials, make a product, use it and then throw it away) are not fit for purpose.
The circular economy unlocks this problem by decoupling resources from consumption. Engaged businesses are re-thinking product design, material choices, business models and supply chains. A Circular Economy Handbook for Business and Supply Chains is a must-read for anyone who wants to get to grips with the circular economy, today.
Online resources, available from the Kogan Page website, include PowerPoint slides of figures and tables from every chapter in the book.

Click here for the book structure and Table of Contents
ISBN 978-0-7494-7675-5 published by Kogan Page in paperback and e-book format
A confident, comprehensive text allowing access to all the major strands contributing to business opportunities in a circular economy. It is brimming with facts, case studies and references for further study. A very timely publication indeed!
Sector by sector, Catherine Weetman systemically unpicks why we need to build a circular economy and, crucially, complements this analysis to explain how we can do this.
This book has got it all and is a must-read for anyone who wants to understand and apply the circular economy today. The enablers, accelerators and drivers are illustrated with practical examples and applications. For an assessment of the challenges that lie ahead, read this book and learn from one of the best.
A Circular Economy Handbook – Structure & Contents
Section 1: An overview of the circular economy
Chapter 1: The circular economy – What is it?
Chapter 2: The design and supply chain
Chapter 3: Circular economy business models
Chapter 4: Circular economy enablers and accelerators
Section 2: How are businesses adopting circular economy models?
Chapter 5: The 'Great Acceleration'
Chapter 6: Food and agriculture
Chapter 7: Fashion and textiles
Chapter 8: Consumer electricals and electronics
Chapter 9: Industrial manufacturing
Section 3: What does this mean for supply chains?
Chapter 10: Supply chain strategy and planning
Chapter 11: Supply chain – upstream: Product design, sourcing and procurement
Chapter 12: Supply chain – midstream: The manufacturing process
Chapter 13: Supply chain – downstream: Distribution and reverse logistics
Section 4: Implementation
Chapter 14: Making the business case and starting the journey