The Circular Economy Podcast
Catherine Weetman interviews the inspiring people who are making the circular economy happen.
We explore how circular, regenerative and fair solutions are better for people, planet and prosperity, and we'll hear from entrepreneurs & business owners, social enterprises, and leading thinkers.
You'll find the show notes, links and transcripts at circulareconomypodcast.com, where you can subscribe to podcast updates and Circular Insights.
We're ranked in the top 5% of ALL podcasts globally, with listeners in over 130 countries. If you can recommend a circular business, start-up or social enterprise in a developing country as a guest, please let us know!
Scroll down to see the full episode list below – each episode has accompanying show notes and links to the people and resources we mention.
Steven Bethell is a thought leader and pioneer in the post-consumer textile space for over 20 years, who's creating innovative and relevant solutions to the crisis of stuff. Steven is co-founder of the Bank and Vogue family of companies, which includes a major remanufacturing plant where the circular economy for textiles is brought to life. Taking post-consumer waste and transforming it into relevant products, Steven works with big brands to help them bring their sustainability…
Looking for a podcast episode on a specific sector, or for a particular circular economy strategy? We've created an index page with an interactive spreadsheet. Now, you can sort, filter and search for relevant episodes. We'll try to keep it up to date.
The index spreadsheet includes  the location of the person/organisation's base and the industry sector related to their work. There's also a link to the relevant episode page on our website, with a player, shownotes and the links we mention. Click here to open the summary page, scroll down to see the spreadsheet, or scroll down to see the full episode list below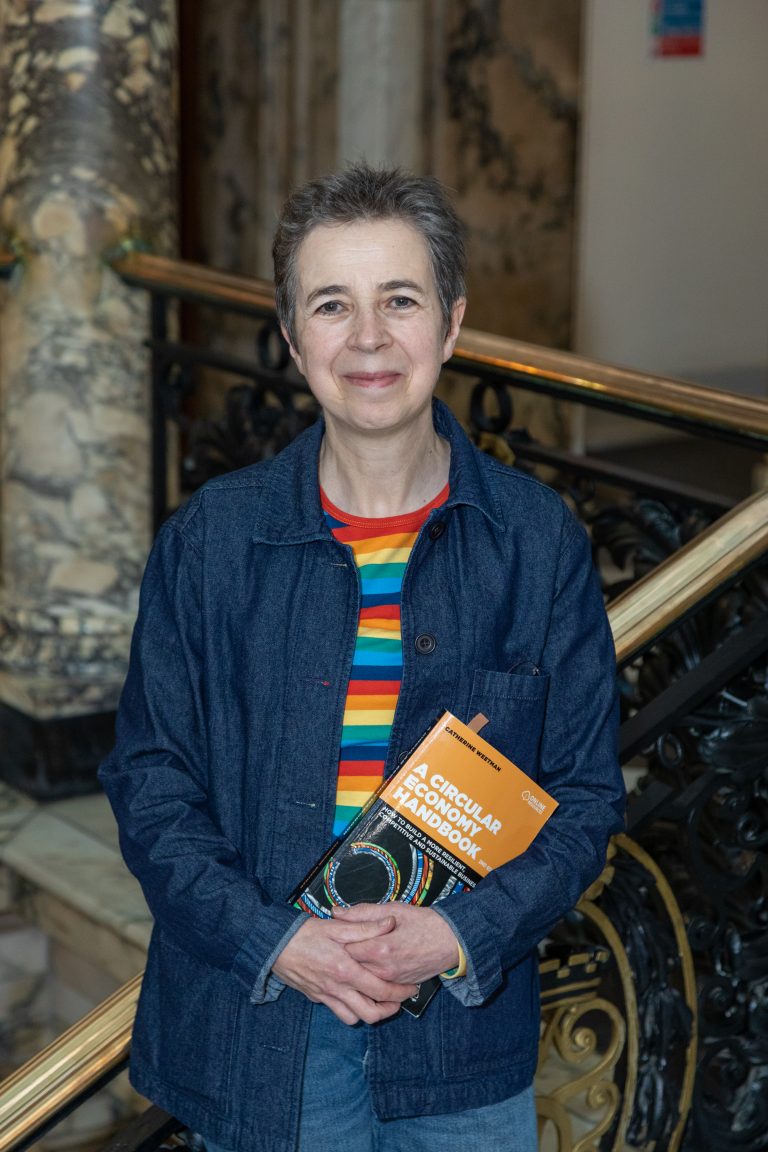 International speaker, author and strategic advisor, Catherine Weetman helps people help people discover why circular, regenerative and fair solutions are better for people, planet – and prosperity.
Catherine's award-winning A Circular Economy Handbook, published by Kogan Page, is now in its 2nd edition. Her wide-ranging experience, systems-thinking perspective, and willingness to challenge business-as-usual, together with a deep understanding of circular and regenerative practices across industry sectors, means she's uniquely qualified to help you succeed with circular.
Read more about Catherine here, or listen to Catherine talking about her 'why' in Episode 100.
Playlist: getting started with the circular economy…
Want to know more about the what the circular economy really is, and how it can help your business?  Here's a playlist to help you get to grips with the concept, how it creates value, and the common myths (spoiler alert – it's much more than recycling!)
And here's Catherine's guide: What is the circular economy? 
Stay in touch for new episodes and useful insights
You can find the podcast page on LinkedIn – we'd love to hear what you think of the show.  And of course it would be great if you could leave us a 5* review on iTunes, or wherever you find your podcasts!
Podcast music
Thanks to Belinda O'Hooley and Heidi Tidow, otherwise known as the brilliant, inventive and generous folk duo, O'Hooley & Tidow, for allowing me to use the instrumentals from the live version of Summat's Brewin' as music for the podcast. You can find the whole track (inspired by the Copper Family song "Oh Good Ale") on their album, also called Summat's Brewin'. You can follow them on Twitter too.