Podcast: Play in new window | Download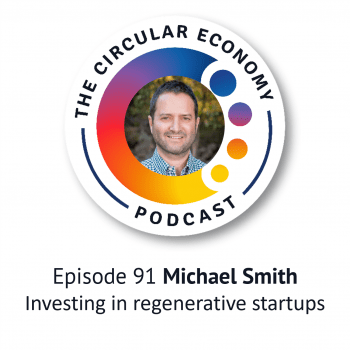 Catherine is talking to Michael Smith, General Partner of Regeneration.VC, an investment fund set up earlier in 2022 that is investing in solutions addressing the climate emergency.
The Regeneration.VC advisory board includes Bill McDonough, one of the early and leading thinkers on the circular economy, and co-author of Cradle to Cradle: Remaking the Way We Make Things. The board also includes Leonardo di Caprio, Academy Award®-winning actor, producer, and activist, and a longtime champion of global environmental issues.
Michael explains how Regeneration.VC is focusing on potential game changers – for example, those using biomimetic approaches to innovation for materials, or on new recycling technology – and why it's important to focus on regenerative innovations, as well as circular models.
We hear about Regeneration.VC's investment strategy, which looks at new ventures through 3 lenses: design (systems and materials inspired by natural processes), use (circular brands and products) and reuse (technologies repurposing materials and products).
Michael shares highlights of a few of the companies in the portfolio and explains why he thinks they are such exciting investments.
Podcast host Catherine Weetman is a circular economy business advisor, workshop facilitator, speaker and writer.  Her award-winning book: A Circular Economy Handbook: How to Build a More Resilient, Competitive and Sustainable Business includes lots of practical examples and tips on getting started.  Catherine founded Rethink Global in 2013, to help businesses use circular, sustainable approaches to build a better business (and a better world).
Stay in touch for free insights and updates… 
Read on for a summary of the podcast and links to the people, organisations and other resources we mention.
 Don't forget, you can subscribe to the podcast series on iTunes, Google Podcasts, PlayerFM, Spotify, TuneIn, or search for "circular economy" in your favourite podcast app.  Stay in touch to get free insights and updates, direct to your inbox…
You can also use our interactive, searchable podcast index to find episodes by sector, by region or by circular strategy. Plus, there is now a regular Circular Economy Podcast newsletter, so you get the latest episode show notes, links and transcript delivered to your inbox on Sunday morning, each fortnight. The newsletter includes a link to the episode page on our website, with an audio player. You can subscribe by clicking this link to update your preferences.
Links we mention in the episode:
About Michael Smith
Michael Smith is a General Partner of Regeneration.VC, investing in solutions addressing the climate emergency. In addition to investing in over 30 companies prior to this role, he brings years of environmental organizing experience, having formed Ponvalley, an environmental initiative comprised of philanthropy, research and impact investments and Shared Mission, an emergency climate summit with Former US Vice President Al Gore and General Wesley Clark, the Department of Energy and Harvard.
Previously, he founded and operated media and real estate businesses, including Smith Broadcasting (sold to Boston Ventures), LA & SF real estate firm, Creative Space (exited) and global music provider, The Playlist Generation (exited), after touring as an international DJ opening for artists such as Rihanna, Guns N Roses and Kanye West.
Want to find out more about the circular economy?
If you'd like to learn more about the circular economy and how it could help your business, why not listen to Episode 1, or read our guide: What is the Circular Economy? 
To go deeper, you could buy Catherine's book, A Circular Economy Handbook: How to Build a More Resilient, Competitive and Sustainable Business. This comprehensive guide uses a bottom-up, practical approach, and includes hundreds of real examples from around the world, to help you really 'get' the circular economy.  Even better, you'll be inspired with ideas to make your own business more competitive, resilient and sustainable. 
Please let us know what you think of the podcast – and we'd love it if you could leave us a review on iTunes, or wherever you find your podcasts.  Or send us an email…
Podcast music
Thanks to Belinda O'Hooley and Heidi Tidow, otherwise known as the brilliant, inventive and generous folk duo, O'Hooley & Tidow for allowing me to use the instrumentals from the live version of Summat's Brewin' as music for the podcast. You can find the whole track (inspired by the Copper Family song "Oh Good Ale") on their album, also called Summat's Brewin'.  Or, follow them on Twitter.