Podcast: Play in new window | Download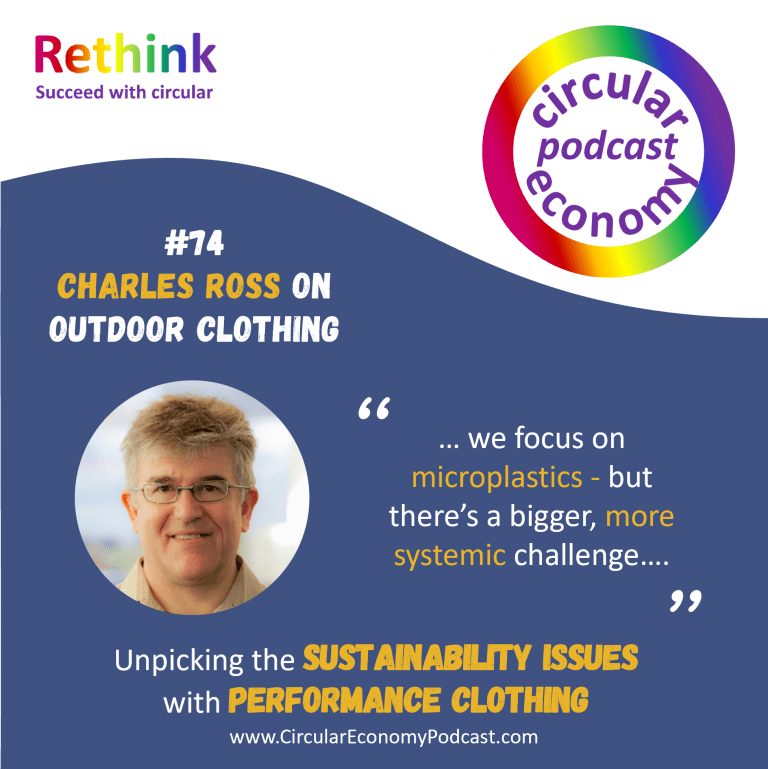 Charles Ross talks to Catherine Weetman about Performance Sportswear Design & sustainable matters for outdoor gear and clothing.
Charles has worked alongside some of the better thinkers of the industry, like Sarah Howcroft (co-founder of Rohan), & the sustainability team at the European Outdoor Group trade association his passion for more responsible product development grew. However he kept returning to the concern from his students: How is selling more Product going to Save the World?
We talk about fibres, including petrochemicals and bioplastics, why microplastics are not the biggest problem, we discuss trends for rental, reuse and repair. We discuss false solutions, and why emotional durability is the key to reducing our clothing footprint.
Podcast host Catherine Weetman is a circular economy business advisor, workshop facilitator, speaker and writer.  Her award-winning book: A Circular Economy Handbook: How to Build a More Resilient, Competitive and Sustainable Business includes lots of practical examples and tips on getting started.  Catherine founded Rethink Global in 2013, to help businesses use circular, sustainable approaches to build a better business (and a better world).
Stay in touch for free insights and updates…
Read on for a summary of the podcast and links to the people, organisations and other resources we mention.
You can subscribe to the podcast series on iTunes, Google Podcasts, PlayerFM, Spotify, TuneIn, or search for "circular economy" in your favourite podcast app.  Stay in touch to get free insights and updates, direct to your inbox…
Don't forget, you can use our interactive, searchable podcast index to find episodes by sector, by region or by circular strategy. Plus, there is now a regular Circular Economy Podcast newsletter, so you get the latest episode show notes, links and transcript delivered to your inbox on Sunday morning, each fortnight. The newsletter includes a link to the episode page on our website, with an audio player. You can subscribe by clicking this link to update your preferences.
Links we mention in the episode:
About Charles Ross

Charles Ross is just a lucky guy – he keeps on being at the right place & the right time. Whilst adventuring around the world he ended up in the US & joined the staff at Outward Bound. On returning to this country the cold, wet, windy & dark location of work did not appeal so much, so he diverted into the apparel side of the Outdoor Industry just as Goretex & fleece were taking hold.
He completed his education just as the new MA in Performance Sportswear Design was started, so was 'volunteered' to deliver some of the modules & has been associated with the graduates of it ever since.
Working alongside some of the better thinkers of the industry, like Sarah Howcroft (co-founder of Rohan), & the sustainability team at the European Outdoor Group trade association his passion for more responsible product development grew. However he kept returning to the concern from his students: How is selling more Product going to Save the World? The advantage of having some of the best graduates has always raised the bar! 
Issues like the Forever Chemicals (highlighted by the movie Dark Waters), the Plastics-in-the-Ocean, ReGenerative Agriculture, and the such like always seem to be on his desk. He teaches all over the world (mainly by Zoom), has been recruited to the Royal College of Art to lead on Performance Sportswear Design, lobbies on textiles via UK Government APPGs (All-Party Parliamentary Groups) & Select Committee appearances, but is most proud of being one of The Do Lecture team. His most visible role is as the moderator of the presentations at the Ingredient trade fairs of Performance Days & the Functional Fabric Fair
Interview Transcript

Provided by AI
Catherine Weetman
Charles, welcome to the circular economy podcast.
Charles Ross
Thank you, Catherine. And can I say what an honour this is. And I'm going to have imposer syndrome, because I use your podcasts to listen to people that I really admire. So I do not feel unworthy to be on the same stage as a couple of your previous guests. But I'll do my best to try and keep up the standards.
Catherine Weetman 
That's very nice of you to say, so Charles, I'm just reading your bio, you describe yourself as just a lucky guy, feeling like you keep being at the right place at the right time. So maybe that's one of these happenstance occasions, not not that I would put my podcast up with some of the other stuff that you've done. But maybe we could start with a quick overview of your background, because it's quite, you do have a kind of a nice meandering story of, of how you how he got to where you are now. So tell us a little bit about that, please.
Charles Ross 
Without going into great detail, I grew up in a military environment. And I was unable to join the military. So I went travelling, and somehow I ended up as an outward bound instructor within America, where it was glorious. And I eventually returned to this country on November the first when it was dark, wet, windy and cold. And I decided being an outward bound instructor wasn't really what I wanted to do. But I had a passion for the community that I'd been experiencing. And this was at the end of the 80s. So it timed with fleece arriving on the market with gore tex arriving on the market and there was energy in this sector. So I went to look at the textile side of the industry and fell on my feet and and I've I've stayed within that area ever since.
Catherine Weetman 
So Charles now you specialise in performance sports, where could we start with an overview of some of the sustainability challenges and I'm guessing we won't even get near all them. But I know people have concerns about things like waterproofing, the dyes and coatings, microplastics, and lots of other things.
Charles Ross 
The list is endless, and they are all challenges. And it's all where it goes wrong. Performance, sportswear essentially gives you microscopic improvements in most cases, more often there's more enthusiasm to the marketing of them than there actually isn't the performance difference. But the whole industries designed to make you consume more. Now, some of it really important, in the situations where clothing is used as life saving equipment, or for the top athletes, it does make a difference. But the majority of the use is what we call outside use, rather than outdoor use. And there is the desire, mainly led by the marketing telling you to consume more. And yes, so without knocking the whole industry, but the the model is broken, because all we're told to do is to consume, consume, consume, which I'm, I'm not sure fit, sits well, in my mind.
Catherine Weetman 
Now, me neither, and I guess nearly every consumer facing industry I look at is more and more following the fast fashion model of you know, planned obsolescence and creating, creating trends out of nothing but creating trends. Were one of the criteria seems to be hardly anybody will have this in their wardrobe, you know, from years ago. So we're so we're safe to introduce this in the knowledge that people won't just get out the ones they've already got of, you know, this colour or this shape or whatever. So coming back to some of those the specific sustainability challenges, which which do you think which are the companies focusing on most? Is that microplastics? Because perhaps their customers are worried about that? Or is it more to do with the chemicals used in waterproofing dyes and coatings? What what do you see them focusing on
Charles Ross 
the big areas at the moment, the media has made out plastic in the ocean, which is the micro filaments, or the fibre fragmentation to be the big problem. But actually, plastic in the ocean is only the third biggest problem within the ocean. We have global temperatures, we have overfishing, and then we have pollution in the ocean. And we know from wash test, the guys at University of Leeds, have actually done the research. And we know that most cellulosic or natural fibres are weaker than the synthetic fibres. So when you do your laundry, there is more there's more cotton breakoff than there is polyester break off, which makes a bit of a foolish awareness of the situation. I'm really interested in the chemical situation. And just before locked down, there was actually a popular movie called dark waters, based on the book expose, which was about du Pont's leaking of chemicals into ground soil within America. And it's the PFCs the PFOA is that is a massive problem. And most people interpret it as we will just get a white, a white coated laboratory genius to substitute the chemicals for less bad chemicals. But we've got so used to the technology, the new generation of chemicals can't perform as well as the old chemicals. And then the most current thing coming through at the moment is that we're using that many synthetic fertilisers, pesticides and dyes. Some are now reassessing that actually some natural materials which have been grown in this way or processed in this way, actually bear more resemblance to a synthetic fibre than they do to an actual fibre. So what we all learnt in school that cotton biodegrades if you just leave, it is no longer true. I mean, it's going on for decades. So you've asked me what the biggest problem is? I don't know there's a whole array of problems. And I would not say that that's our biggest problem is actually the cheapness of textiles, just like food. Because they become cheaper. We now own twice the amount of garments that we did at the millennium, which are doubled from the 1970s. So to me, the biggest problem is the overconsumption of textiles on potentially an overpopulated world. But that is extrapolated, because we have extended supply lines, I have just been talking about Spring, Summer 2023. trends, and we're still in 2021. And the only way to make sure that you don't run out of stock, if you overproduce soap, because if you lose the famous shelf space, it's your rival brands that will move into that area. So our biggest problem to me is the cheapness of textiles. And the model that we're having to push them to, which is a really depressing answer. Sorry, Catherine.
Catherine Weetman 
That now it's, it's not, it's not particularly a surprise, I think it's it's interesting that you're focusing on on the same areas that I'm starting to talk about more and more, which is, the most important thing we've got to do is reduce our footprint, you know, whatever kind of footprint that is, whether it's about energy or chemicals or land use whatever it is, we've got to come up with ways of reducing the footprint. And the only way we're going to make a big enough impact is by consuming less. And that means to two things in terms of design. It's either more durable products, which doesn't fit with the the trends and the fast fashion and all the rest of it and the marketing, or it's producing products that can can have, can be used by more than one person over the product lifetime through sharing, renting, exchange systems reuse or you know, resale, all that kind of stuff. So we get more use out of the same product. And only those two things will slow down the flow of materials, and shrink our footprint. I guess, I guess what I was asking was out of those problems. Where are the manufacturers focusing most what what are they seeing as the as the number one thing for them to do better?
Charles Ross 
It's emotional obsolescence. I call it emotional durability, which is how long do I love this garment for to keep wearing it? Or as the fashion trade want to refer to it as emotional obsolescence. How quickly can they make this garment unloved so that you will buy a new a new product instead?
Catherine Weetman 
Wow, is that is that a real thing? They're not just they're not just focusing on new trends, but that I do think designers are actively focusing on how do we make this emotionally obsolescence as fast as possible. You
Charles Ross 
you've you've used again another particular word do I think designers are doing it? No. And I think as in brilliant cases from especially the outdoor and sports industry, but how the designers want to make it last emotionally for as long as possible. But I would not See the same of the trend of big business. And if I could just give an example, To illustrate this, the top of the mountain brand at the moment is recognised to be Arcteryx, Canadian company, really decent company. And they even have manufacturing over in Canada. So they've got their social network built up on on that side of it. But they had a fair amount of staff Chief of Staff churn. And they noticed that people were joining the company or wanting to join the company, because they loved the values of the company. But when they got there, they found the company wasn't actually living up to the other side to the to the quant side, or being a really active player within the community. And not so much the lead athletes who were choosing to work there, but the rest of the team wanted them to pay more attention to the footprint of the apparel. So there was this contrast between they wanted to use the best materials, but they also wanted to be responsible. And they had a project which you can look up on bird's nest, you can look up on YouTube, they don't actually talk about it publicly. It's called bird's nest, which is when they pull all their spare bits of GoreTex together from off cuts. And in October each year, the whole of factory goes to work on a Sunday, unpaid. They, they make all the off cuts of Gortex into rain, capes, ponchos. And the following month, they go and distribute them towards the hobos of Vancouver. And since they've done this and found their place in the community, two things have happened. One Arcteryx Are the testbed for the new type of GoreTex. So if you ever want to be an industrial spy, the easiest way to do it is to become a hobo within Vancouver, but also the company reconnect to their society in their community. And their staff churn shot down rapidly. Because although they weren't publicly talking about it, the employees knew the company was playing a decent well within their society.
Catherine Weetman 
Yeah, that's really interesting. And there is more evidence that employees want to work for companies that, you know, fit their values and and people are thinking much more carefully about who they want to work for, and whether they'll be proud of working there. And you know, it's not just about the pay the benefits, where it is and so on. These things becoming more and more important. So let's, let's move on to good stuff now. What do you think the key players are doing to go more circular? Are you seeing anybody offering rental in the outdoor market or proper take back and resale schemes? I know there's Patagonia worn wear but that only really exists in America. There's no he can't come by worn wear if you're not living in America. What are you seeing out in the market?
Charles Ross 
I'm actually seeing a massive explosion of this very area over in Scandinavia, especially Sweden, places like Haglofs, Houdini, each is born all of a rental models Fjallraven have gone for the long term durability and for sizing, you know if you have 30 or 40 year garments, we will help to repair them keep them going. Ortovox, the German company, is just doing such good social responsibility with their supply chain. Patagonia are the default answer when when anyone ever asked someone in a school of fashion. Can you example, a sustainable clothing company? They say Patagonia and Patagonia have very good practice, but they excel at the communication of it. But I can also look towards a German brand like Vaude and I would actually challenge and say Vaude, they actually have better product. So environmentally lower impact. It's just their communication isn't good. But that's ignoring all the brands within this country. People like Rab, Mountain Equipment, Alpkit , Rohan, Berghaus – All the big ones are doing much improved practice. Rab have just committed to becoming a Climate Neutral company within the next couple of years. Mountain Equipment are also on the journey. They're the people who instituted what has become the Responsible Down standard. So the RDA they they were the people who were first in the market with a standard. Alpkit have their continuing project. In all their shops, they have a repair centre, which just like Worn Again, you can take any goods into and they will place zips and buckles. So definitive stare within all their retail outlets Berghaus, Rohan, I mean, you can actually, it makes me proud to go through the list of all the brands. And because they will staffed by what I call decent people, there is no brand not trying to make progress in this area. And even those brands who are more on the athleisure side brands like the north face, and Christopher Raeburn, they still have wonderful practice going on. So I almost see the outdoor industry as being very much the early adopters of this. And it now integrated itself into the more high street side. So I can't think of a brand off the top of my head, who what they're doing, I am ashamed of, I would actually like to say the outdoor industry as a whole actually have good practice. And if you look underneath the cover, almost every company will do something good.
Catherine Weetman 
Huh, that's interesting. And it's good to see lots of them making making solid progress. What do you think? Are the key trends on textiles? Are companies being pushed away from using synthetics? Or are they trying to find ways of using set synthetics that avoid some of the issues around you know, synthetic dyes and finishing and also the the micro fibres that that don't degrade? And as as, as you mentioned before, carry lots of chemicals? And I know that that happens for cotton as well. But you can't it's there isn't technology so far that I've seen that allows the use of naturally derived dyes for synthetics, What trends are you seeing on the textiles?
Charles Ross 
That's a really good question to ask in December 2021. Because we've just finished two big themes on the future sustainability of nylon, as was the theme. Polyester we all know about. And everyone's very aware of the recycling of polyester, which is not so much the recycling of polyester but the down cycling from the drinks industry. So there's a lot of PET out there that people are reusing. Where's the nylon source, the PA was always somewhat limited. But I have seen sources of nylon, where not only are we retrieving so many more of the fishing nets of the sea, what poly from the ocean made famous. And I understand why there were so many ghost nets out there. Because if you land a net in this country to chuck into the landfill, it's gonna cost you almost one hundred and fifty pounds a tonne. And I know things are tight fishermen. But now that they're getting more money for landing, the next they are landing the next which is in which is improving the situation. For the last decade, they've drastically improved the disposable carpet industry the the exhibition carpet industry. So we're either having a pure mono material nylon carpet, or we can easily remove the underlay. So the nylon and the rubberized texture become separate. But the latest development which yes, I'm well chuffed that we're now pulling nylon from waste car tires. So the embarrassing guilty thing in the corner that we all have from driving too much. We're now pulling the polyamide out of the car tires for reuse. And this is being combined with exactly the same time that the whole world of what we call bio plastics. So that is when we're using a plant based feedstock, and it's giving us the same quality as we're extracting from a synthetic and the most famous things of our other starch from sugar plants and corn plants, which are creating things like polylactic acid PLA, which has the same effect. And the whole industry has become conditioned on nylon to work with nylon six and nylon six, six, but I'm seeing bio plastics which could be equipped 12 Two 510 5958 In fact, there's a whole portfolio of them and if You intelligently choose your source, they will actually outperform bio, they'll actually outperform the synthetic versions. But it brings to mind. And Catherine, this is a very long answer. Sorry, I was fortunate to chat with the guys at Patagonia on this very subject. And we both Concur on a very interesting point, we have no problem creating bio plastic from the waist of the food industry. But we do have a very big issue about growing more textiles, we still have over a billion people on the planet, living below the nutritional poverty line. And I respect Mike Berners Lee, and I agree with him, we grow enough calories on this planet to feed everyone. It's just we don't distribute them. And people like me are still eating too much meat. So whilst there is a shortage of calories being grown, we need to grow more food to feed the ever increasing population. So if you are going to go buy a plastic, used food waste,
Catherine Weetman 
I absolutely agree. And in a blog I did last year. And by the time this goes out a blog in 2021 I was calling out some of the false solutions. And one of those was a bioplastic made from way sugarcane. And whilst the sugarcane isn't the, you know, human edible part of the plant, I was arguing that we don't really want to be supporting the sugar industry by helping make it more profitable than it already is. There's also all sorts of issues with with with bio plastics, but I agree absolutely, that it should only be from food waste. And really, it should be from not not just food waste, because if we're designing the circular system properly, we should be reducing edible food waste, human edible food waste, and even animal edible food waste. You know, what we used to eat feed pigs, on and so on. But there are parts of plants that aren't edible. And that's what we should be focusing on in terms of, you know, using them for bio plastics and other other you know, derivatives like chemicals, and so on. So, thinking about thinking about the approaches that all those companies are taking, do you see any risks with those approaches? You know, in the past, you said that the return programmes some of the brands have for their gear, allow people to absolve their guilt when buying the latest new model. And I actually, I came across a term for that the other day. It's called Moral licence, it's kind of a thing, this thing that way, you've done something that's, that's morally, morally better than the default option. It gives you such a such a boost of of kind of, you know, almost a mini halo around you Around your subconscious for a while that you'll then go and do something else that was a lot less sustainable, or, you know, morally good than you would have done in the first place. It's like you've kind of bought yourself some moral credits that you can now spend on, I don't know, a McDonald's or whatever, whatever horrible thing he wants to do.
Charles Ross 
I think you've actually summed it up very well. And I am not that concerned. But one thing I will say you've asked about the issues and the risks, the big driving theme of a powerful at the moment is all around the circular economy. And the problem I have with the circular economy is that there are too many brands rushing to create a mono material garment, so suitable for recycling. And this is going to sound like a list. But there are a whole load of stages that you should be doing to your garments before you consider them for recycling. Because to me, the definition of the circular economy is to keep the original product going for as long as possible. And that should be where your focus is. And I wish we had more hire models available within this country. I'm also advocating people to resell on what they're not using regularly. Now, you know, I live in Yorkshire. And I'm not that tough. I'm a southerner. But I have a down jacket, which apparently I can stand on top of every storm, I can only wear it one day of the year, it just to war, I should be selling this garment on. And even if I'm not going to sell it, I should be re appropriating it to someone else, someone who needs to use it on a more regular basis than me. And then failing that I can always relegate it, and use it for when I'm properly cold for further purposes. And all of those stages come in before recycling. Now, we have a new stage, a new diversion tactic, which which has gone on. And this diversion tactic is about biodegradable fibres, which is a wonderful subject. And I am a proponent of these new wonders. And I will talk about a lot of things, which they're really interesting technology, but we've not found the right application of them yet. And I describe it to my students, as it's just like electric vehicles. We know the future and the long term strategy of EVs are brilliant. But whilst we're still powering them using coal stations, we're going about it the wrong way. But until we iterate until we dabble in until we experiment, we will never progress it to get the right solution. So I accept on the way there are going to be problems. And one of those things on textiles at the moment is bio degradation. We have some additives, which make your garments degrade, or the fibres degrade 10 times faster. But if I tell you that caught that cotton isn't really affected by this, but when we're applying it to polyester, and nylons. And you can measure their lifespan in hundreds of years to get a solution in decades, is actually a bit misleading. When you hear the expression biodegradable, you expecting something to happen within a couple of years. And there are technologies which are decomposing synthetics within 24 months. But it also raises to other issues when it degrades. Or we can have gases coming off like methane and carbon dioxide. So greenhouse gases. And secondly, Will there still be toxicity in what is left? Because the current ISO, or international standards for testing bio degradation is when it passes through a fine sieve. So it's almost designed for packaging. And if it just means making the problem smaller, it means it's harder to contain. And if we have leaching chemicals coming out, we have a problem. So there are some tests, which not only measuring months, but also test the toxicity of what is left. So yeah, I almost didn't give you a full answer. But I now I've just filled in far too many gaps. There's a lot of really good thinking in this area. And the thing I enjoy about the outdoor industry is that we all get together and we pull the resources, because we know no one brand is ever going to come up with a perfect solution. So we're all trying we're all iterating and we're all sharing the results in the hope that as an industry that charges that has slightly more I would call them moles. We can develop something that can then go on to the general fashion industry, which will make me a lot prouder.
Catherine Weetman 
And I really love the phrase you use making the problem smaller. And it's it's really worth reiterating that isn't it that you know there are there are lots of things that might be happening that appear to make the problem smaller but all that does is allow you know that the chemicals and the toxins and the gas gases that are going to be emitted, it allows all those to escape even more easily, and be much more difficult to contain and capture, you know, if the if the biodegradable elements of synthetics means that the microfibers are even smaller than they are now, then the filters and the Guppy bags and so on in a washing machine aren't gonna collect them. So it's kind of you know, it's it's a full solution, isn't it to go back to the the blog that I wrote about it with those sugar, sugar bioplastics will
Charles Ross 
building on that example, I actually don't see the microfilament problem in the sea, half as dangerous as the dodgy chemicals, which are in the sea, which use them as carriers to end to our food chain. And I know the outdoor industry is responsible for PFCs going into the mix. But when we have things like pesticides and herbicides and PCBs, there are a whole load of dodgy chemicals which we need to we need to take responsibility for. Because if we look at the indications on things like the fertility rates, the newer Indians who have a very high fish diet, we know the chemicals are not reacting well in the human body. And it's going to be how long until we reach a tipping point. At the moment where we have to accept there's going to be a point six level of PFCs in the environment, we're never going to clear up. But we don't know how close that is to actually changing the genetic makeup, and how it's going to interact with the body. We were advanced people, but we don't know everything that we're playing with.
Catherine Weetman 
Absolutely, absolutely. There's there's all sorts of unintended consequences of human innovation in the past. So coming back to the system, and the circular economy, you've talked in the past about needing to break the system in order to make, you know, a big step change in the industry and in the sustainability of the industry. So how would How would you break the system? If you if you could kind of, you know, control the direction of it tomorrow? What What would you do? And would that include some kind of circular system.
Charles Ross 
Um, it's something that goes back to the core of the circular system that we've already talked about. If I was to answer this in a phrase, I would say to make emotional durability, the central focus. Now clothing has four actually quite contrasting roles. It's got a utilitarian, a practical world, which is very strong. And it's the reason why we wear clothing. But we choose clothing based on its comfort. If we have two garments, it's the more comfortable one we will wear. Now, the third stratification level is when it's identifying you can identify, you can see who I am most days, because I wear a check shirt like everyone else within the outdoor industry. But it's the fourth aspect, which is overlooked by so many people. Clothing actually has a sense of fun and pride. And it should never be overlooked. When we were all teenagers. We were basing it off the principal. And with the pressure on the pricing of clothing, which has come down. We all enjoy dressing up, we all are more fame than we ever want to publicly admit. And we like what we wear. If you read something like Malcolm Gladwell blink, he puts so much into the nonverbal communication. So the tone of our voice, our mannerisms, our parents, and our clothing is a biggest single thing that affects our appearance. So I would go back to answer the question to say how would I break the system, I would actually reinforce the system. And I would try and make emotional durability the central thing. And I would remember that clothing has lots of roles, but it also has a role based around enjoyment that people don't celebrate enough and water brands solely to use the default answer. What a brand like Patagonia has always done so well is that it's made you proud of being associated with their brand. And at the same time you're hooked in, they recognise they will never save the planet by selling another jacket. But whilst they have your time And they're going to communicate with you and press on their values, that you should actually reconsider your heating policy, or your transport policy. Because if savings can be made with a switch to solar or ground tea, or to any bike or away from your second car, those are actions that will have an effect on saving the planet in a far more radical way than the whole of your wardrobe will actually encompass. So to answer your question, make people love their garments for longer and take pride in the garments that they have.
Catherine Weetman 
Yeah, I like that and and Patagonia are really good at that on their with their on the worn were site the scars tell the story. So even if a garments been mended or got got other kind of scars, it's because it's, it's been having adventures and and you know, you can, you can wear that gum with pride even though they weren't your adventures. So Charles Rowe,
Charles Ross 
although warm wear does it very professionally. I actually like the contrast done by the Rab and the fitness stead repair teams, who actually put in contrast colour patches, because people now almost want to show off their battle scarred garments that they've had for decades. And Prince Charles summed it up when he appeared on country file or something sometime in the last decade wearing a barber jacket, that Hudson like 37 patches on, you know, and my attitude is if it's good enough for His Royal Highness, it's good enough for the rest of us.
Catherine Weetman 
Yeah, good one, good one. And, Charles, if if you were going to talk to somebody new to your industry or or another, another business, that is just thinking about embarking on the circular economy and thinking about what what they could do, what would your top tip be?
Charles Ross 
Because I work as a university lecturer, my single biggest drive is education, rather than regulation, I like to create the aspirational side that people will actually move to. And when you're doing it on garments, there's still a lot of education that can be communicated the values of the garment. Even simple things like garment care skills, there is so much room to make people love the ethics of your brand, beyond what your individual product is. So my top tips for people coming into the industry is look at making sure your company's facing the right way doing the right thing. Don't get distracted by the latest technology or the latest look 90% of your turnover will not be at that fashionable end of the scale. But your repeat business, which is where your profits come from, come because you have the right ethics. And to me, if you take your role seriously and educate your customer, you will get that repeat business.
Catherine Weetman 
That's that's a good point. And it kind of fits in with what you were saying earlier about arcteryx Isn't it and their, what their employees were looking for in terms of, you know, being being proud of who they work for. So I guess part of our identity in the future is going to be being proud of the clothes that we're wearing in terms of you know, what, what it says about, you know, what are the ethics of the brand and what it says about you. So, Charles, it sounds like, you know, an awful lot of deep thinkers and people leading from the, from the front in the outdoor industry, who would you recommend as a future guest for the programme? It doesn't have to be somebody in the outdoor industry, obviously.
Charles Ross 
Um, you've already had two of the people I've learned lots from Katie, Beverly, and Sophie Thomas. What I would like to answer this question with is a collective, I would like you to have all my graduates on your programme, because I admit, I am an average lecturer. Yes, I'm lucky I'm at the World College. But it's only because their questions have forced me to reassess where I am. And every new generation, they've asked harder questions. So I've had to revisit what I understand about better practice and more responsible practice. But because you can't interview all my graduates, I'm just gonna say another one that I listen and learn from on a regular basis is Mark Shaler. He's one of the do lecture team. He's, yeah, he apparently he was the first sustainable person within Aster. So he's done both sides of the coin. And every conversation I have with him, just stretches my vision more in the right direction.
Catherine Weetman 
Fantastic. Well, I've followed mark for quite a few years, including listening to some of his podcasts and so on. And yeah, I really like the sound of what he what he does and what he thinks about. So that's great. I'm sure. I'm sure. That will be a fascinating conversation if he chooses to join. So Charles, how can people find out more about you and get in touch?
Charles Ross 
I'm really good question. And if you Google me, you will come up with the wrong answer. Because I am named after an apple, that my great grandfather procured. It's a great British apple that's bland, it bruises easily. And it's only best for baby food. Or the other Charles Ross of the world, is a Canadian mime artist. And he can do a summary of all nine episodes of Star Wars, or all three books of Lord of the Rings within a one hour show, purely mine. So the easiest way to find me is either on LinkedIn, or I have the easiest email address in the world. Now, before the days of G Gmail, we used to have email. So it's literally just charles@email.com. But if you are writing to me for the first time, just give me a line that you've heard me on this podcast. So I can type replace you, because I now have too many students all over the world. And even because I'm a middle aged, grumpy guy, I'm struggling to keep up with everybody's name.
Catherine Weetman 
Excellent. Thank you. Thank you, Charles. And, yeah, I'm sure there'll be people who want to follow your work and learn more about the challenges of the performance. Industry, people
Charles Ross 
who are going to follow my work, I want people to join the conversation. Because it's a two way thing. There'll be as much learning from your views, and how much you understand than what you can learn from me. It's a two way thing, please come into it. Because the more contributors there are, the better.
Catherine Weetman 
Fantastic. Well, thank you very much for taking us through some of the the challenges and the emerging solutions and the optimistic spots in there, the bright spots in what's happening in the outdoor industry and with performance sportswear. And I'm going to follow you and your work. I might ask you a few difficult questions along the way. As well, if I can kind of think one step ahead. But thank you very much, Charles, for taking the time to share all those learnings with us today, and look forward to hearing what's next in 2022.
Charles Ross
No worries honoured to take part
Want to find out more about the circular economy?
If you'd like to learn more about the circular economy and how it could help your business, why not listen to Episode 1, or read our guide: What is the Circular Economy? 
To go deeper, you could buy Catherine's book, A Circular Economy Handbook: How to Build a More Resilient, Competitive and Sustainable Business. This comprehensive guide uses a bottom-up, practical approach, and includes hundreds of real examples from around the world, to help you really 'get' the circular economy.  Even better, you'll be inspired with ideas to make your own business more competitive, resilient and sustainable. 
Please let us know what you think of the podcast – and we'd love it if you could leave us a review on iTunes, or wherever you find your podcasts.  Or send us an email…
Podcast music
Thanks to Belinda O'Hooley and Heidi Tidow, otherwise known as the brilliant, inventive and generous folk duo, O'Hooley & Tidow for allowing me to use the instrumentals from the live version of Summat's Brewin' as music for the podcast. You can find the whole track (inspired by the Copper Family song "Oh Good Ale") on their album, also called Summat's Brewin'.  Or, follow them on Twitter.