Podcast: Sharing tools and skills | Resource security | Fast fashion's real price | Circular manufacturing in low income countries | Why IKEA is switching to circular | #buildbackbetter | Circular Design Cards
Go circular or be expensive
We help entrepreneurs, companies and business leaders discover and use the circular economy – to build profitable, resilient, sustainable and successful businesses.  We believe in a circular economy that is fair, transparent and inclusive, to create a better world for everyone. 
Welcome to the latest round-up of what we've shared, and what's inspired us.  In this issue:
Episode 27 of the Circular Economy Podcast, with Chris Hellawell of Edinburgh Tool Library
What we've been reading, on resource security, fashion's impact, manufacturing in low-income countries, why IKEA are building better (and cheaper) with circular, and more on #buildbackbetter
Circular design – design cards from the Centre for Circular Design
Thank you letters, including a link to Catherine's latest circular economy webinar
Did you receive this email from someone else?  You need your own!  Stay in touch for free circular economy insights and updates, direct to your Inbox.
Don't want to hear from us any more? Just unsubscribe!
Circular Economy Podcast Episode 27 –  Chris Hellawell of Edinburgh Tool Library
Chris Hellawell is founder and director of Edinburgh Tool Library, which works like a lending library, sharing tools rather than books. 
Chris is passionate about the concept of sharing as a way to tackle the climate crisis, and also as a way to save money, and to build social connections in communities.  By sharing, everyone is richer.
The Edinburgh Tool Library started out as a set of shelves in a spare room. Now it's a city-wide organisation with multiple sites, including a tool maintenance depot, two wood workshops, a library and a police box.  The Library runs classes, youth programming, skills development for disadvantaged groups, and a volunteer programme transforming community spaces throughout the city. 
Episode and show notes here
Find the podcast series on iTunes,  Google Podcasts,  PlayerFM, Spotify, TuneIn, or search for "circular economy" in your favourite podcast app.
PS We'd love it if you could post a review, and help other people find us!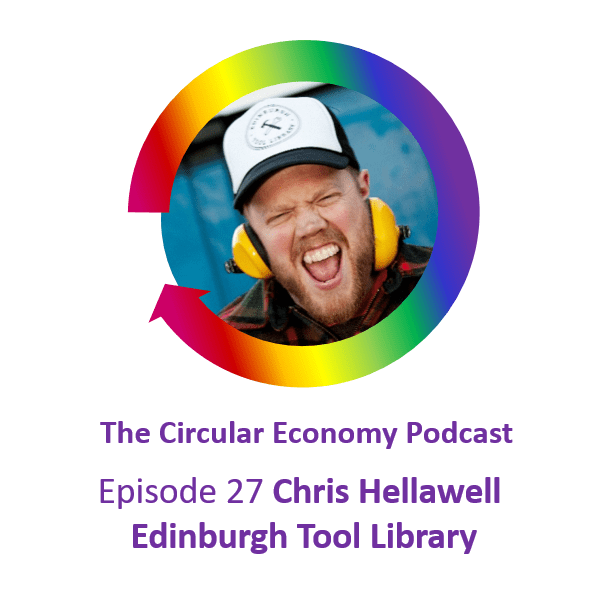 What we've been reading…
Lessons on resource security
A recent blog from the Global Footprint Network digs into the challenges of resource security, which are suddenly top of the agenda for both governments and businesses.  Resource insecurity is not new, but as the blog says, many of us are shocked by what we didn't know about our long-distances supply chains, which were designed to be efficient, not resilient. The authors point out that "In the UK and United States, minor disruptions to the food supply-chain caused by the impact of the pandemic on farm laborers and meat-packing workers even raised the spectre of the sudden advent of food shortages."
They go on to point out that "even the most powerful economies have proved to be inadequately prepared. The pandemic has revealed how truly vulnerable humanity is, both on the public health and on the resource-management fronts. It has also brought into focus that resilience is a key element for each city, company, and country to be successful." 
The blog concludes: "We have the power to build a world that thrives within the means of our planet. That's what we like to focus on so we can celebrate the shift to sustainability over the next 50 Earth Days." Read the blog here, and find out more in Catherine's blog from March 2020: Worried about supply-chain disruption? Why circular economy approaches are more resilient        
The environmental price of fast fashion
Our friend Dr Patsy Perry from the Department of Materials, The University of Manchester, Manchester, UK, with several co-authors, has published a paper in Nature, reviewing the evidence of fashion's widely-publicised environmental impact. These include over 92 million tonnes of waste produced per year and 79 trillion litres of water consumed. This, combined with its relentless (until the pandemic) growth, lead the authors to call for "fundamental changes in the fashion business model, including a deceleration of manufacturing and the introduction of sustainable practices throughout the supply chain, as well a shift in consumer behaviour — namely, decreasing clothing purchases and increasing garment lifetimes."
Circular can transform manufacturing in low-income countries
A report from PA Consulting, with the UK Department for International Development, published in 2020, looks at how to support the transition to circular manufacturing processes. It suggests that "finding innovative ways to reuse, recycle and refurbish throughout the manufacturing process will help build a positive human future in our technology-driven world."
The report looks at "overcoming the environmental challenges caused by traditional manufacturing in low-income countries. By taking diverse teams from across the public and private sectors, governments and manufacturers can work together to build a circular economy."
The authors ask "… how can we marry the principles of the Circular Economy, which extract value from traditional waste, with manufacturing in developing nations?"
Research and insights from Circular Economy experts set out the "best practices manufacturers need, as well as trends and examples of success ambitious companies can learn from."
Download the report to read about the key steps to build circular manufacturing
IKEA's Circular Economy Strategy
In the Global Optimism Podcast Episode 28, Paul Dickinson and Christiana Figueres are in conversation with Jesper Brodin, CEO of IKEA. 
Brodin makes the point that the consumerist model of the 1900s was naïve, and meant we were using resources at an unhealthy rate. IKEA is switching to circular for three reasons:  it is the right thing to do; our customers are demanding it from us, and to make IKEA products affordable in a resource-constrained world.  As he says, "If you don't have circularity built into your model, you're going to be expensive, because virgin raw material in the 1900s model is not going to be available in that price."
Brodin thinks companies need to be talking about circular business models. "My advice to companies is to take a bit of the risk and the lead to start by committing to what's right. Commit, set your targets when it comes to climate and other areas and then find the solution. Let time be a friend, even if we are in a hurry. We have maybe only a decade, but some things can take three or five or seven or 10 years to resolve. But they start with the commitment because you believe and then what we discover is that the solutions come, and that we are not yet at a place where we have full coverage for our commitment, we still have a couple of things we need to crack along the way. Solutions present themselves."
He goes on to stress the size of the challenge ahead: "… if we don't change the business model, we will become expensive. And the IKEA product today, it might be that 65 per cent of the total price is maybe raw material. And if you look in the future, we're going to go from seven to 10 billion people on this planet to share resources. If you don't have an idea on how to do that, you're going to get expensive."
#buildbackbetter
An article in the Observer last Sunday – After the Covid-19 crisis, will we get a greener world? – digs into pandemic-related risks and opportunities. It discussed forecasts for global emissions (spoiler alert – unlikely to improve on the reduction required for the Paris Agreement target of 1.5 degrees Celsius).
Economist Mariana Mazzucato talks about the need for governments to use their bailout funds to create positive public-private partnerships, not 'parasitic' ones.
The article touches on Amsterdam's plans for the future, and their use of Kate Raworth's Doughnut Economic tool. [We covered more on this in Circular Insights #20, and Kate Raworth's original blog about the project has links to the Doughnut tool.]
Circular design
Professor Rebecca Earley of Centre for Circular Design (part of the University of the Arts, London) has shared a set of Circular Design Cards – see the videos on their YouTube channel.
The Centre for Circular Design (CCD) researches circular materials, models and mindsets. CCD aims to accelerate the transition towards designing for a circular future where textiles, materials and 'things' are designed, produced, used and disposed of in radical new ways.
Thank you letters
Thanks to Deborah Dull of Supply Chain Revolution for giving us a shout-out.  Catherine gave a bit of help with Deborah's article, looking at the circular economy through a supply chain lens, for the Pyxera Global Publication. Deborah says "Ultimately, the circular economy is about inventory — extending its life, reusing it, repurposing it or eliminating the need for it altogether". The article is on page 28, and an infographic on page 33. Read the full issue: https://www.pyxeraglobal.org/paradigm-shift/
Thank you to Beatriz Luz of Exchange 4 Change Brasil and Economia Circular Brasil for inviting Catherine to present at their knowledge sharing webinar on 13 May.  You can watch the webinar on YouTube  (the link should take you to the first slide in Catherine's presentation, 45:50 minutes from the start of the webinar).