Why reuse is the #1 tool in circular economy toolkit
Reuse, reselling and sharing – the 'inner loop' of the circular economy – form the core of winning circular strategies.  We dig deeper and look at why you might be missing some of the benefits. 
Let's first quickly remind ourselves why reuse, reselling and sharing take priority over recycling strategies…
You may remember my recent blog, arguing that recycling is the least effective circular economy strategy.  The reasons are numerous, including lost value, the heavy footprint of the recycling process, plus the sheer cost and complexity of recovering products for recycling.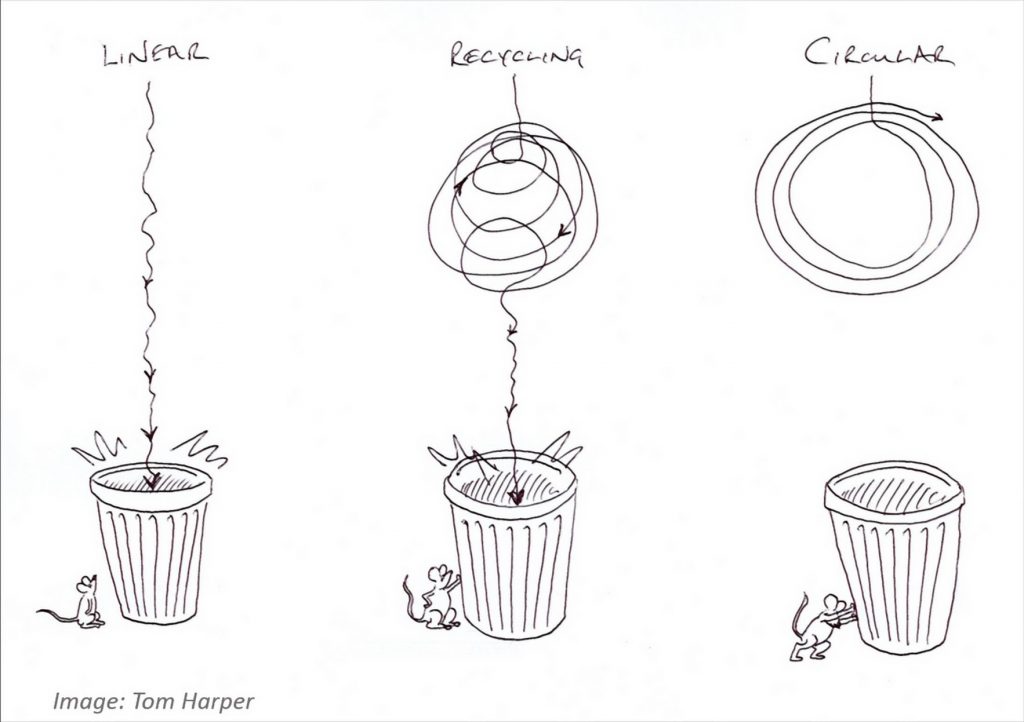 Of course, recycling can create good PR.  You know the score – even a small amount of recycled content or a design prototype can make the headlines, especially for the current hot topic:  plastics.  It's an easy option, and we've all been in those situations where the decision-makers want the easiest, least-disruptive option.
There is even a risk that recycling can benefit your competitors, at your expense.  Think I'm exaggerating?  What if your competitor partners with specialist recyclers to provide a high-quality material, recycled from your products as well as theirs.  By avoiding the need to rely on virgin materials, they benefit both from reducing their costs and securing supplies,
Let's be honest:  for many applications, recycling is impractical, inefficient and an ineffective way of closing the loop.
In contrast, the inner loop – reuse, reselling, sharing – retains the highest value, and needs the least energy, resources and supply-chain activity.  You probably sense there are other benefits too – and you'd be right.  But more about those later.
Tightening and slowing the loop
Let's check out those 'inner loop' strategies.  In 'What is the Circular Economy' I summarise the four circular economy loops, and show the different 'actors' involved. The inner loop – reuse, reselling and sharing – aims to utilise products (including their materials and other resources) more effectively. 
For instance, let's think about car utilisation.  Cars in Europe are typically on the move for an hour each day.  In other words, they are utilised for less than 5 per cent of available time. 
Car rental, sharing and ride-hailing services enable the car to be in use for many more hours each day.  Even if we only achieve 12 hours use on an average day, that's 50 per cent utilisation – over 10 times more efficient.
However, what we are willing to rent, or share with others will vary according to our cultural and social values, plus other behavioural economics factors such as cost and convenience.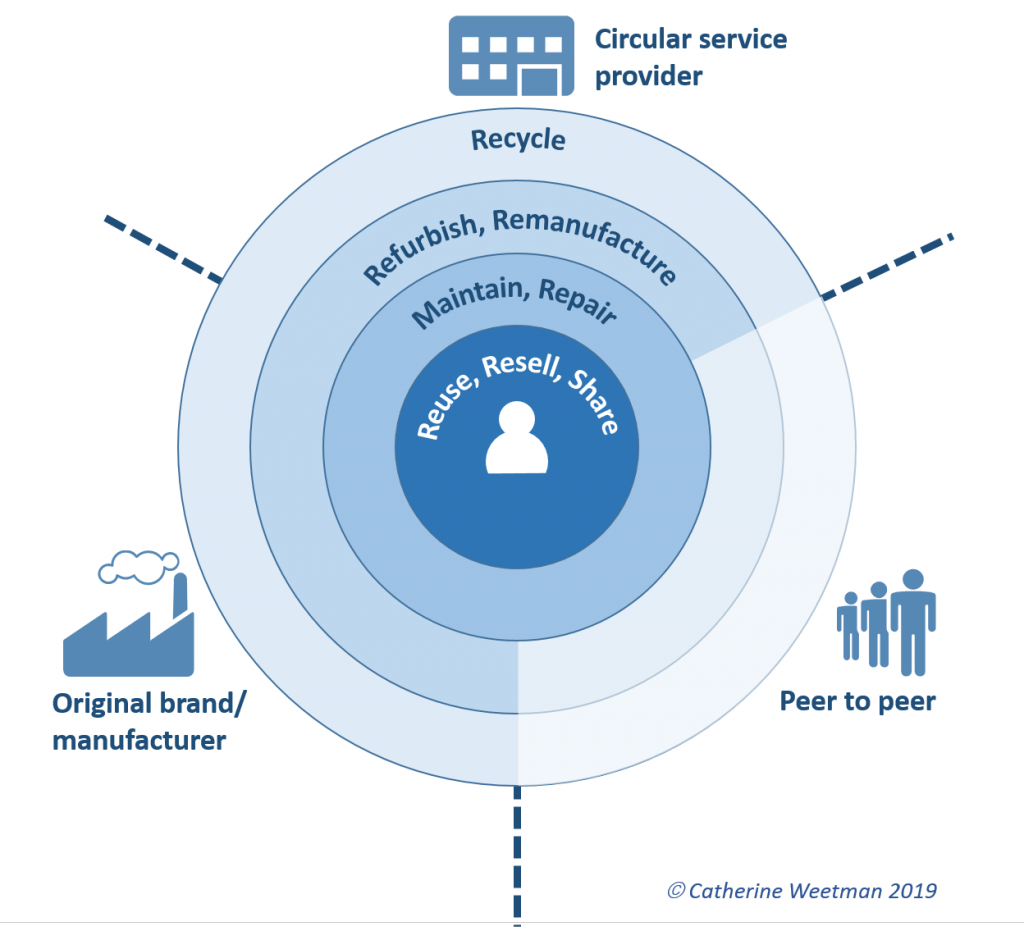 We shouldn't forget there are negative costs of 'exclusivity' too. For cars, typical costs of ownership include depreciation, insurance, maintenance etc. If we admit it, there is a cost of 'storage' too, spending extra on a household driveway or garage, parking at work and so on.
Telling the whole (life cost) story
Explaining the pros and cons can help people see the alternatives.  For younger people, car ownership costs are competing with other financial priorities, including student loans and housing.  In 'Me, my car, my life' KPMG predicts the decline of the two-car family, as the 'argument for owning a car gets weaker by the moment'.  The report notes that 'spending approximately $30k for an asset that loses 11 per cent of its value the minute you drive it off the lot and then sits idle more than 90 per cent of the time isn't the most rational economic decision.'
Sharing
The good news is that platform 'apps' and artificial intelligence make car-sharing and ride-hailing more convenient, while integrated fare systems simplify the logistics of using public transport.  We all make trade-offs:  balancing our personal priorities for cost, convenience, comfort, reliability, prestige and so on.  The bottom line is that if sharing services tip the balance on those factors, they will quickly become the norm.
Reselling
Let's not forget that the inner loop includes reselling.  After all, we're familiar with the resale of cars, buildings and lots of other high-value, durable items.  Here, specialist resale businesses can provide added-value services and proof of authenticity.  You can find specialist resellers (and some sharing apps) for watches, jewellery, sports equipment, furniture, power tools and much more. 
A few years ago, IKEA noticed many of its pre-owned products were selling well on eBay.  On the face of it, this was competing with IKEA's new products – but think about it this way… it's a vote of confidence in the quality and durability of IKEA products.  The upshot is that IKEA now supports resale by making its top 100 spare parts available in its stores, for free.  IKEA is also piloting pre-used furniture exchange programs in Scotland, Japan and Spain.  According to GreenMatters, the IKEA's website in Spain explains the process:
First, fill out a form and attach photos of your used IKEA furniture item.
Then, an employee will evaluate the furniture and send you an offer.
Next, you take your furniture into an IKEA store, where you will receive your offer in the form of IKEA store credit. 
The items go to the store's bargain corner, where they will be sold for the same exact value of your store credit.
IKEA makes no extra profit and incurs some handling and space costs, but is lowering the demand for new products made of new materials, as well as keeping more products out of the landfill.  Even better, it builds customer trust and loyalty.
We need socially and emotionally durable products...
In Episode 6 of the Circular Economy Podcast, designer Adam Fairweather explained his ethos that 'material language' can communicate messages to people, creating socially, emotionally and industrially durable products.
Unfortunately, a wide range of what we 'consume' lacks easy, effective resale options.  In industrialised economies, it's common to discard textiles, furnishings, cheaper/smaller electrical and electronic items, and of course packaging at the end of use.  Why?  It comes down to those same behavioural economics factors: cost, convenience, prestige, cultural and social values, and of course the power of marketing.  In addition, brand values and reputation influence our willingness to buy pre-owned items. 
For fashion, the renting and resale platforms I described in The best circular strategy is NOT recycling, including Rent the Runway, The RealReal and others, are gaining momentum, rapidly.  Likewise, for outdoor clothing and equipment, Patagonia's Worn Wear program 'makes it easy to buy, sell or trade used Patagonia gear.'
Packaging loops
In the same blog, I wrote about the new Loop circular shopping platform launched by Terracycle, in partnership with well-known brands including Proctor and Gamble, Mars Inc., Nestle and Unilever.  Ethical Corporation explains that Terracycle started a few years ago, providing solutions for difficult to recycle products – "from diapers to chip bags, and everything in-between".  But early in 2019 Terracycle and its partners announced a bold ambition to move from disposable to durable packaging, designed to either be reused 100 times or more or easily recycled.  Deposits encourage consumers to return the packaging. 
Terracycle founder Tom Szaky says "The average consumer cares most about convenience and affordability."  He explains that "At Loop, we try to emulate the throwaway experience. The only difference is you throw it into a reuse bin, and not a rubbish or garbage bin."  Szaky says because the brands retain ownership of the packaging, they treat it as an asset rather than a cost.  The result is "unparalleled innovation in packaging". 
Loop's pilot in the United States starts as a standalone system, with logistics company UPS delivering and collecting from consumers.  It will soon become part of retailer e-commerce offers, and in September 2019, the UK pilot with Tesco should see Loop products on 'bricks and mortar' store shelves.
Tighter loops make a better business
But here's the interesting thing.  Helping people buy and sell your pre-used products delivers widespread benefits for your business.  Here we go, using my '7 Rewards' framework as a checklist…
Boosting revenue and relationships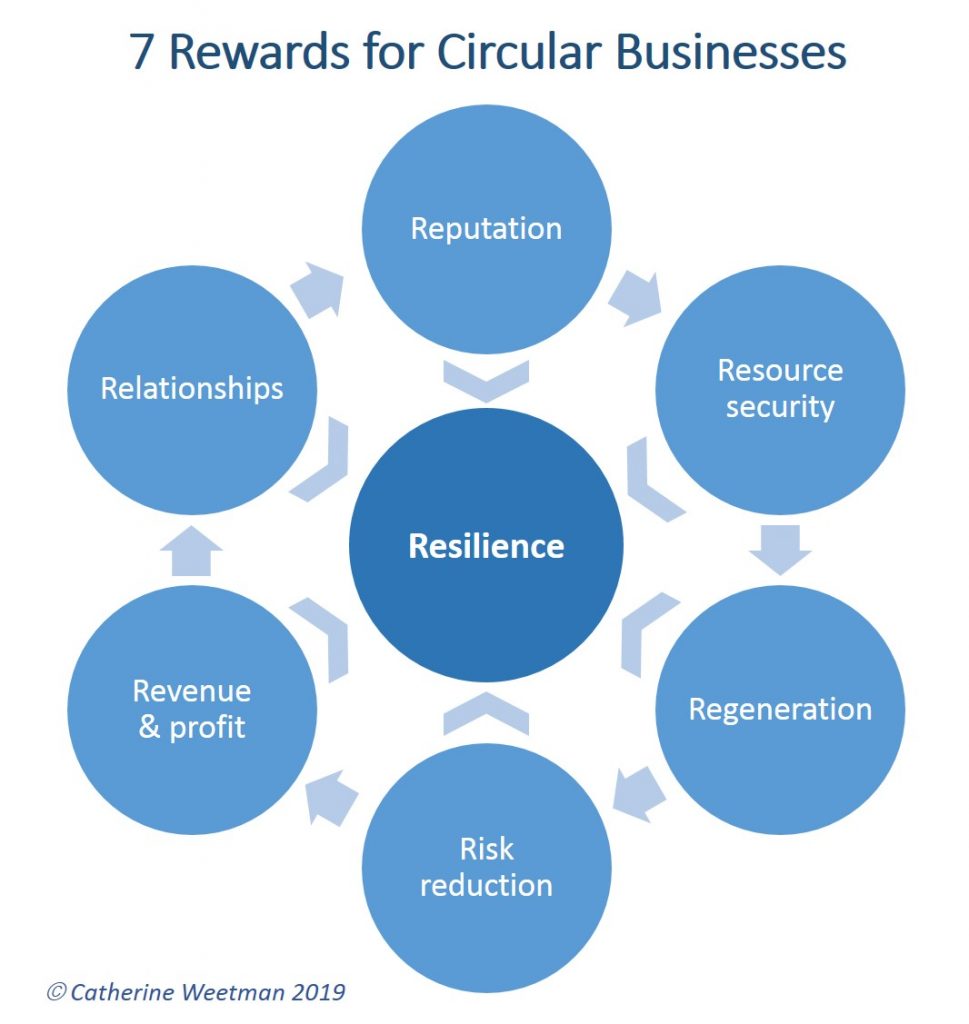 Firstly, there are revenue and profit opportunities.  BMW's DriveNow rental service opened up a whole new customer base, giving it direct engagement with potential new car buyers. Selling lower-cost, reliable and high-quality pre-owned products can open up new markets (demographics and geographies).  Positive experiences with pre-used or rented products enhance brand perception and can reduce your marketing spend.  Plus, customers who choose to buy your pre-owned products are NOT buying from your competitors instead.  In addition, you can develop or expand service and spare part offers, thus creating new revenue streams. 
Offering support and resale services can build stronger, deeper customer relationships, enhancing brand reputation as well as providing insights into user experience, values and behaviours.
Similarly, integrating tighter circular economy loop strategies helps you attract talented employees, high-quality suppliers and forward-thinking investors – as well as boosting your appeal to the growing band of customers who expect business to do more good (not just a bit 'less bad').
Risk, resources and resilience
It follows that helping your product stay in use for longer reduces your consumption of materials, water, energy and labour, so improving your resource security. 
Moreover, improved resource security reduces risk and cost volatility in your supply chain.  Resale, rental or sharing can start with low-risk pilot schemes, as we saw with IKEA.  Similarly, in Episode 1 of the Circular Economy Podcast, I explained how BMW was able to test the market for its DriveNow car rental offer:  developing a robust proposition and value-chain before a larger-scale roll-out.
Still not convinced?  All those benefits help you become more resilient, competitive and future-fit.
The tightest loops deliver the biggest wins
The bottom line is this: if you aren't working out how to tighten the loop in your business ecosystem, with strategies to include reuse, reselling and sharing, then you're missing out on the biggest wins. 
Even worse, you're leaving value on the table for your competitors.