Podcast: Play in new window | Download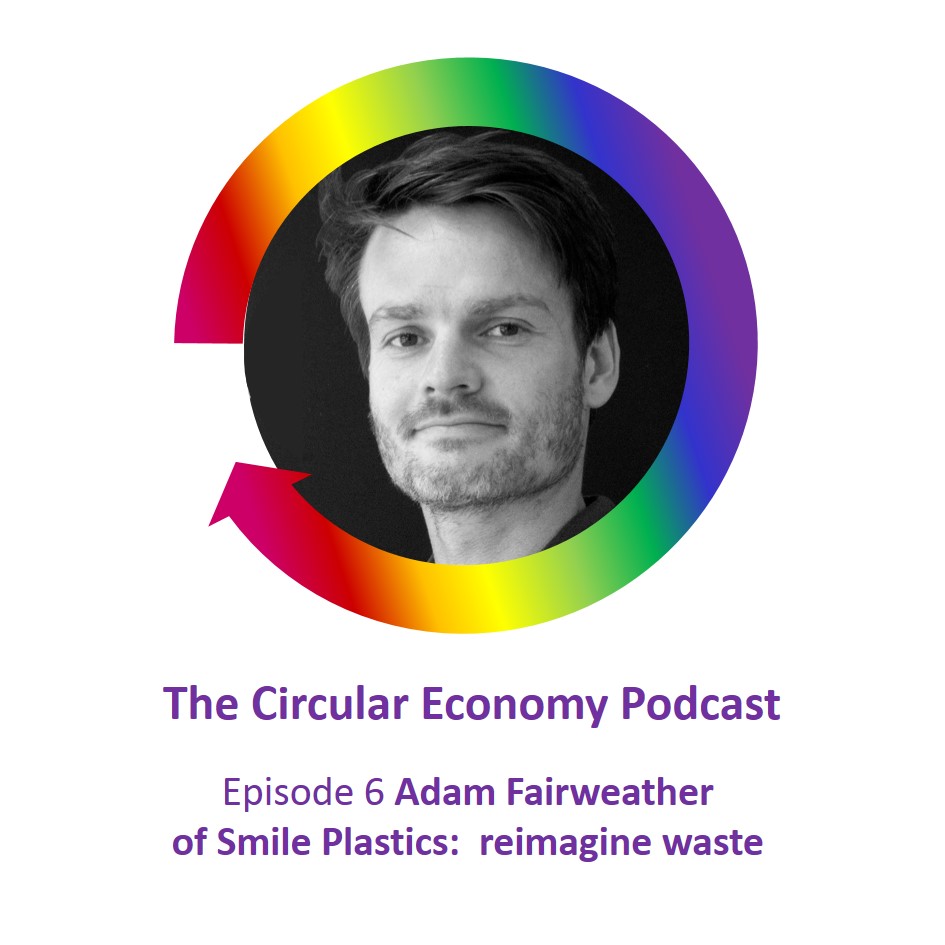 In this podcast, Catherine Weetman is talking to Adam Fairweather. Adam and his partner Rosalie McMillan run Smile Plastics, a circular economy business that reimagines local waste streams to make beautiful materials for the built environment.
We talk about Adam's approach to design, and his ethos that 'material language' can communicate messages to people through design, creating socially, emotionally and industrially durable products.
We explore some of the wide range of projects Adam has been involved in over the last couple of decades. Adam tells us about his plans for decentralised manufacturing, forming an industrial ecosystem to reimagine waste.
You can read a summary of the podcast, and find the links to the people, organisations and other resources we mention, further down this page.
About Adam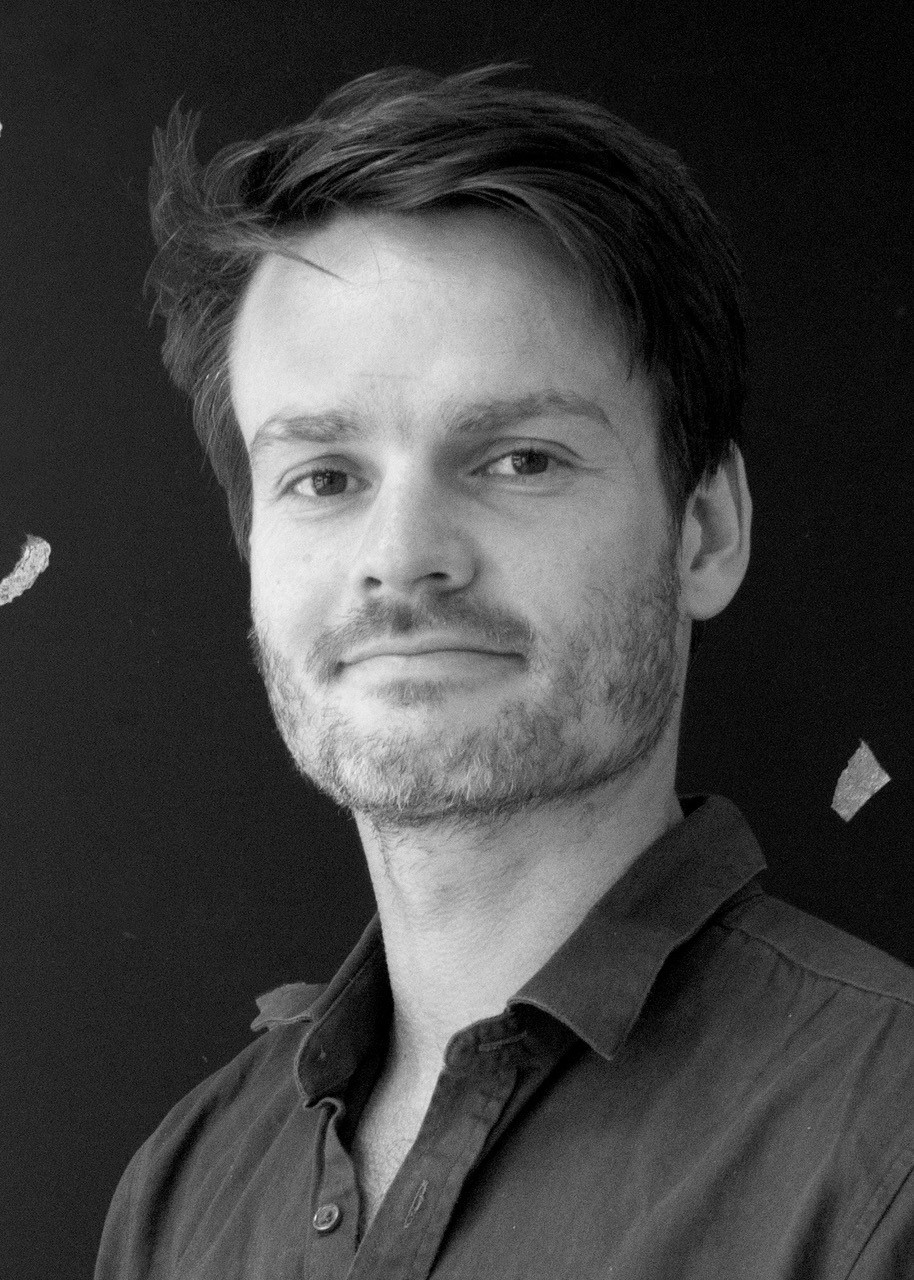 Adam is an industrial designer with specific experience in materials development. Adam founded Re-worked Ltd in 2010, a product design consultancy focussed on recycled materials, and developed 'Çurface', a renowned panel material made from recycled coffee grounds.
Adam has advised a broad range of companies around the circular economy, designing ways to reuse and recycle waste products. Adam also provides consulting services to Lofbergs UK, and is innovations director at Greencup UK, a coffee company.
Smile Plastics
Established in 1994, Smile Plastics up-cycles various waste streams and manufactures decorative and functional composite panel products.

Smile Plastic's products are used by designers and architects to make products and interior design more sustainable and exciting.

Smile Plastics also works with businesses interested in finding new uses for their waste either to sell or use internally within the business.
Podcast Sections
[00:00] Adam tells us about his degree, in product/industrial/applied design, at the University of Brighton back in the early 2000s. He was frustrated that it didn't equip him to use design to change the world, to have a positive net impact and be more sustainable.
Adam explains how all his work is linked to Permaculture, and how 'material language' can communicate messages to people through design, creating socially, emotionally and industrially durable products.
Reimagine waste
[06:11] The focus of Adam's work is how you can take what is seen as waste, and reimagine it, so it can be useful again – to businesses, society and our environment. This is the starting point for nearly every project over the last two decades, and the driving force behind Smile Plastics and Adam's work with Greencup. Adam feels it is important to take responsibility for the full supply chain, whether tiny or employing millions of people. Smile Plastics is a circular economic business, designed around Permaculture, aiming to achieve net positive social impacts.
Adam aims to change the perception of what waste is, and change perceptions of value. He feels that the lack of emotional durability is ultimately what makes a product redundant, thus leading to more waste.
Getting under the hood of Smile Plastics
[11:32] Smile Plastics is a material design and manufacturing house, that takes different types of waste material and converts them into decorative surface panel products. They are often used as building materials, to replace sheets of plywood or MDF and so on. They can become tabletops, shower splashbacks, a bicycle part and a wide range of other products. Different types of waste are curated to achieve different performance properties, colour palettes and 'graphic personalities'.
A sister company, Smile Studio, is in the early stages. It designs and makes smaller items such as tables, or chopping boards – this example uses offcuts from a chopping board production process.
[18:15] Adam tells us about the history of the company, set up originally in the early 1990s by engineer Colin Williamson and designer Jane Atfield. It made decorative materials from things like detergent bottles, and existed for around ten years. As early as 30 years ago, Adam's work was inspired by what Smile Plastics was doing. Then, around five years ago, Adam approached Colin to see if it would be possible to restart the business.
[24:25] We talk about how to engage customers, using social media instead of needing a big marketing budget.
Is the circular economy gaining momentum?
[25:18] Adam feels the circular economy is one iteration of how we talk about sustainability. He tells us about the Royal Society of Arts 'Great Recovery' project from a few years ago, and how that helped engage creatives. Adam feels the Ellen MacArthur Foundation and others are helping engage business and governments.
What's next for Smile Plastics?
[29:16] Adam sees Smile Plastics as an 'advanced Proof of Concept' business. Currently, it is stress-testing the industrial ecosystem that surrounds it as a supplier to the built environment. Adam's aim is to use decentralised manufacturing, finding urban hubs and creating more meaningful manufacturing that can move dynamically with trends and other driving factors. 'Perfect' doesn't allow people to engage, whereas imperfections can make things special. He wants to create platforms that can reimagine local waste streams and make beautiful materials for the built environment.
[33:04] Smile Plastics is a platform and enabler for the circular economy: a tool to make it happen. Adam thinks we should be able to find beauty in what we do – if you can't then maybe there is something fundamentally wrong with it. Catherine recalls Marie Kondo's motto, of only having things that 'spark joy'.
[35:08] Adam tells us about some of his projects, including an art installation for the Wellcome Trust that repurposed yoghurt pots, which were then repurposed again at the end of the show. For coffee roasters and recyclers Greencup, he created a series of different products made from spent coffee grounds. For Google, he collected coffee waste from the offices and found ways to reintegrate it back into the workplace to create meaningful experiences for staff and visitors. It was converted into a range of products including espresso coffee machines, furniture, and a coffee laboratory.
How to find out more
[39:06] We wrap up the interview, with Adam recommending Sophie Thomas of Thomas.Mattews as a future guest. Sophie was involved in the RSA Great Recovery project and is part of the Common Seas project. To find out more about Adam, Smile Plastics, Greencup and how they reimagine waste, follow the links below.
To find out more about the circular economy, listen to Episode 1, or read our guide: What is the Circular Economy? Why not Sign up for the latest episode and insights, straight to your inbox.
Links we mention in the episode:
Want to find out more about the circular economy?
If you'd like to learn more about the circular economy and how it could help your business, why not listen to Episode 1, or read our guide: What is the Circular Economy?
To go deeper, you could buy Catherine's book, A Circular Economy Handbook for Business and Supply Chains. This takes a bottom-up, practical approach, with lots of real examples from around the world. It helps you really 'get' the circular economy, and come up with ideas to make your own business more competitive, resilient and sustainable.
Please let us know what you think of the podcast… and you could help accelerate the circular economy by helping others find us. Please leave a review on iTunes, or wherever you find your podcasts. Or send us a Tweet: @Rethink_Global.
Podcast music
Thanks to Belinda O'Hooley and Heidi Tidow, otherwise known as the brilliant, inventive and generous folk duo, O'Hooley & Tidow for allowing me to use the instrumentals from the live version of Summat's Brewin' as music for the podcast. You can find the whole track (inspired by the Copper Family song "Oh Good Ale") on their album, also called Summat's Brewin'. Of follow them on Twitter.