7 reasons why the circular economy is better for your business
Are you trying to make a compelling business case, highlighting the benefits of the circular economy?  Perhaps you need to convince those around you who are worried about change and uncertainties?
The good news is that big consultancies, governments, the World Economic Forum and other organisations see the circular economy as a win-win for business, people and our planet.  However, their reports tend to focus on macro-economic or industry sector benefits. You won't be surprised that these don't easily translate into a business case for circular approaches.
The hundreds of examples in my circular economy database are drawn from every sector around the world. 
Many of the examples I use in my book, talks and workshops are start-ups and small businesses, using profitable, resilient, sustainable strategies to disrupt the big corporate 'supertankers'.
It's easy to see how the circular economy creates opportunities for businesses – and their customers, suppliers, employees and surrounding communities.
Today I'm going to outline the seven key circular economy benefits for business: Resource security, Regeneration, Risk reduction, Revenue and profit, Relationships, Reputation and Resilience.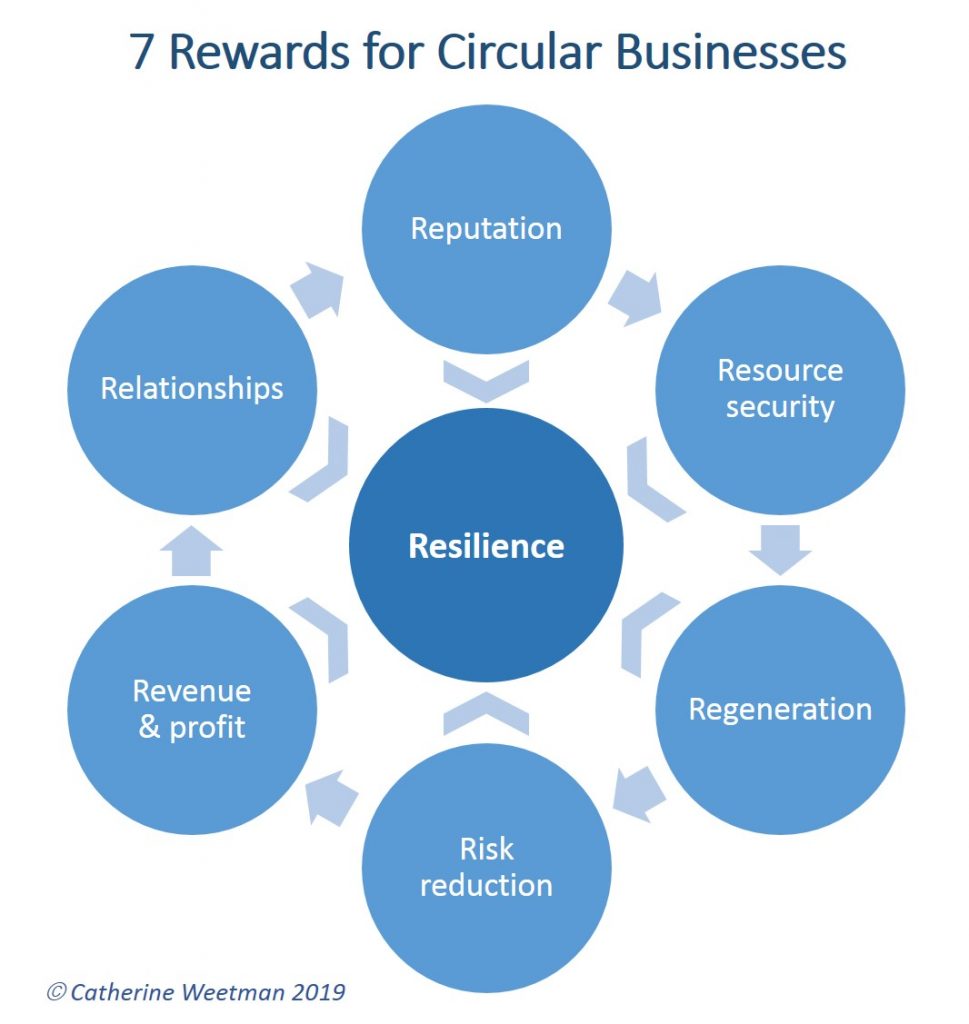 Working out which materials are critical for your business, and which are most at risk, can be a great starting point for circular approaches.  Is future demand likely to exceed supply?  Are there geopolitical at play, likely to affect price or access? 
Swapping from finite, potentially risky or under-pressure resources to safe, sustainable materials provides resource security and price stability.   For instance, let's look at Continental Tyres, aiming to secure its long-term supplies of natural rubber.  Continental is developing a more sustainable source of latex, by growing a species of dandelions near its factories in Germany.  You might be surprised that the rubber plant (which only grows near the equator) is on the EU Critical Materials list.
Similarly, outdoor gear brand Patagonia is securing its resources and reducing its footprint by swapping from high-impact and water-dependent cotton to bast fibres like hemp.
How do we define safe and sustainable materials? They should be either recycled, or renewable in the product's lifetime.  Remember also the land, water and energy and other inputs required - they must be renewable and sustainable too.
Collecting and recovering your own end of life products, components and materials helps close the loop in your supply chain, boosting your resource security at the same time.  Designing for easy disassembly makes this more cost-effective.  In Episode 3 of the Circular Economy Podcast, Tom Harper of Unusual Rigging explained how his asset management project created opportunities for reuse of equipment and components. Deposit schemes, product-as-a-service, rental and buy-back commercial models can all encourage recovery for your next batch of products – Desso carpets, Ricoh Greenline copiers and Mud jeans are all benefiting from this. 
Applying the circular economy mantra that 'all waste = food' for resources used for the product and the production process might involve regenerating your own resources, or partnering with a specialist recycler.  We heard about this in Episode 6 of the Circular Economy Podcast, when Adam Fairweather explained how Smile Plastics creates beautiful materials from reimagined waste.  In the Netherlands, Mud Jeans now uses up to 40 per cent recycled denim from jeans it took back from customers.
Another way of protecting both your resources and suppliers is by supporting your upstream supply chain to regenerate land, improve biodiversity, water quality and even support communities.  For instance, Nestle, realising its dependency on smallholder farmers, provides training and technology to help those farms be fulfilling and financially viable businesses. 
Resource security and regeneration have the additional benefit of reducing business risks, and diversifying both the locations and materials in your supply chain can also help.  As an example, a global washing machine brand has production lines based on either magnesium or aluminium, so it can swap between the two to optimise input costs.
Local and distributed manufacturing and assembly can reduce the risk of disruption from geopolitical issues, global trade tensions, or climate change.  We're already seeing the impact of climate disruption, especially for agricultural products such as food, textiles, cocoa and rubber. 
Might your customers have concerns about risks linked to the product?  New science highlighting toxicity,  safety, or other problems, can quickly change the landscape.  Plastic straws, glyphosate weedkillers and PFCs in outdoor gear are just a few examples where new evidence threatens the entire business model for the companies involved. 
What about other threats?  Maybe your competitors (existing or soon-to-be) are planning circular economy projects that could undermine your business.  Are you at risk from their customer-centric offer, new commercial models, or building their brand purpose to do more good (not just a bit less harm)?
Is your sector gaining attention from governments, concerned about pollution and health?  Might they impose product stewardship legislation, taxes, or even ban the product itself?  Think of those manufacturers of single-use plastics in countries that now have taxes or complete bans.  Circular approaches can mitigate those risks, too.
New by-products from your recovered waste can open up new markets and sales.  Expanding your offer to include repairs, remanufacturing, reselling and sharing can generate new revenue streams.   Repair options might need supplies of spares,  consumables and even special tools. In my blog for Earth Day, I wrote about the benefits of designing your products to be durable, and repairable.
Remanufacturing and reselling can open up new markets, by selling to different geographies or demographic groups who might aspire to buy the high-quality, high-functionality product, but can't justify the cost of a brand new version.  For companies like Caterpillar, Cummins and Cisco,  remanufacturing is a highly profitable mainstay of their business.
In Episode 1 of the Circular Economy podcast, I explained how BMW started its  Drive Now car rental service to make it easy for existing BMW owners to rent a BMW when away from home.  Unexpectedly, lots of non-BMW owners wanted to rent a BMW car too – opening up a whole new market of potential customers for BMW, as well as capturing a bigger share of the rental market.
Another advantage of using, instead of owning, is that it smooths out cashflow.  That can be a big plus for buyers and sellers of high-value products, equipment and infrastructure. 
Cost savings can come through circular procurement policies, encouraging product stewardship and buying services rather than owning equipment, assets, products and consumables.  Negotiating contracts for performance can deliver win-win outcomes for you and your supplier.  Avoiding waste disposal costs, import tariffs and long-distance, high-inventory supply chains can also save money.
Is your business model reliant on product obsolescence?  This could incur hidden costs for unnecessary marketing spend, cost of research and development, and writing-off stocks of the old model (and its parts) in your supply chain.
to make it easy for existing BMW owners to rent a BMW when away from home
Stronger, deeper customer relationships can pay dividends, avoiding expensive marketing to gain attention in an overcrowded and difficult to measure media marketplace. 
Research says that acquiring a new customer is anywhere from five to 25 times more expensive than retaining an existing one.
In Episode 5 of the Circular Economy Podcast, Katie Beverley explained how user-centred design can engage your customer, and in Episode 6, Adam Fairweather told us how he uses Permaculture principles to design emotionally, socially and industrially durable products.
Relationships with suppliers, employees, local communities and shareholders are also strengthened through circular, regenerative and win-win strategies.
Circular economy approaches build stronger brand reputations, by doing things better and doing better things.   People are getting more vocal, criticising companies involved in (or staying quiet on) deforestation, pollution, or using unsustainable materials.  Brands selling poor-quality products, use non-recyclable packaging or allowing ecosystem destruction are being 'called-out' on social media.
Adopting circular economy strategies can attract and retain talent, by ensuring the brand purpose fits your employee values.  The oil and plastics industries are worrying about how they will encourage forward-thinking employees and investors to come on board.
Those six benefits of closing the loop all help strengthen the core of your business, and also help it become more resilient.  A systems-thinking perspective, understanding more about the ecosystem around your business can help identify the risks, issues and opportunities. 
My circular economy components provide a useful checklist:
How will you secure safe, sustainable inputs from local and diverse upstream supply chain? 
Can you design products, services and circular business models to slow, narrow and close the loop?
How can you recover and regenerate resources from the process, and at end-of-use?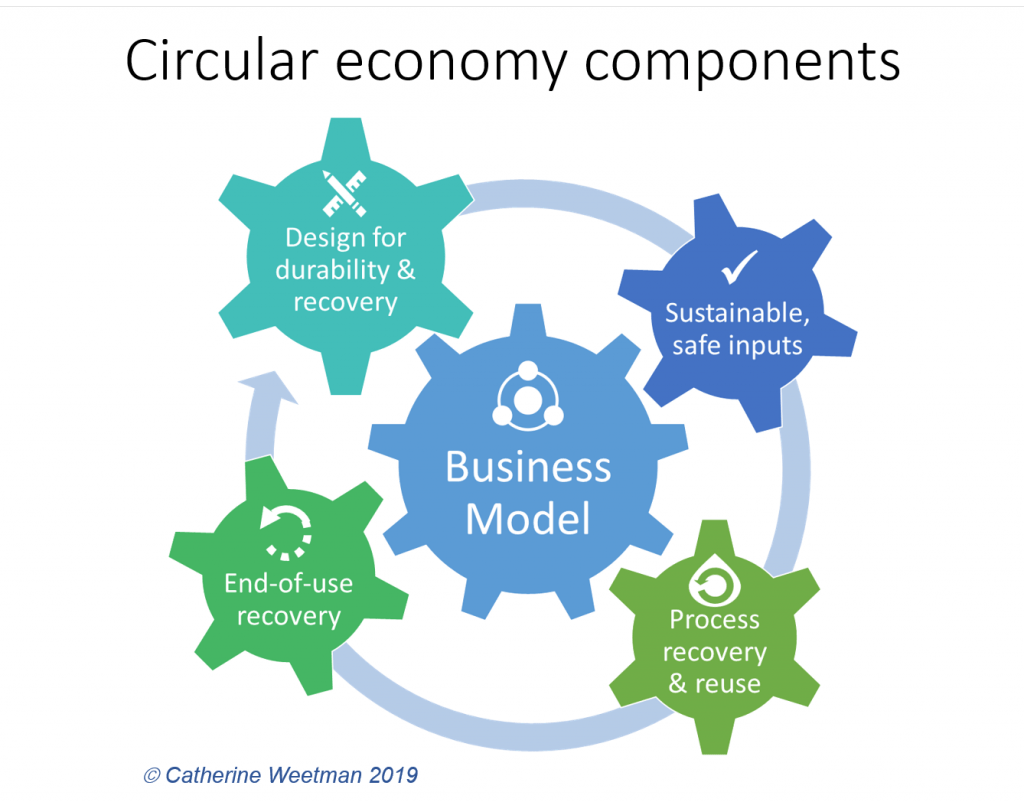 It's also important to think about how to create deeper, stronger relationships with customers, employees, suppliers and other stakeholders, so you get to know more about each other's needs and aims and create win-win partnerships.
Circular economy leading thinker Ken Webster, talking to In the Loop founder Katie Whalen, offered two suggestions:  "don't kill your customer" (make your products safe) and "don't kill their custom" (give them ways to become your customer for life).
Circular economy benefits = future-fit businesses
These seven circular economy benefits can build a compelling business case for change, by highlighting the opportunities to strengthen your business. 
Companies like Nike, IKEA and HP all see the circular economy as central to their future success.  In a 2015 GreenBiz feature, John Ortiz, director of Product Stewardship at HP, said: "We're not just looking at niche opportunities — we see this as our opportunity to decouple economic growth from the depletion of the earth's natural resources for HP, our customers and other industries." 
We believe the circular economy is the best tool we have for resilient, competitive, sustainable business.  You could put circular approaches at the heart of your strategy with a mission inspired by the late Ray Anderson, founder of carpet company Interface:
"'To take nothing, waste nothing, do no harm, and do well by doing good, at the expense not of the planet but of less alert competitors."
Want to find out more about the circular economy?
To find out more, don't forget to subscribe to the Circular Economy Podcast and read our guide: What is the Circular Economy.  Why not stay in touch to get the latest updates and insights, straight to your inbox?