Podcast: Play in new window | Download
Episode 5: Katie Beverley of Ecodesign Centre, PDR
In today's episode, I'm talking to ecodesign and systems thinking expert, Katie Beverley, who describes herself as a 'critical friend' of the circular economy.  Katie is Senior Research Officer with Ecodesign Centre, PDR, at Cardiff Metropolitan University in Wales.  We dig into Ecodesign principles to explore the differences, and how Ecodesign could add value to circular solutions.  Katie explains the benefits of user-centred and systems-thinking approaches. 
You can read a summary of the podcast, and find the links to the people, organisations and other resources we mention, later in this page.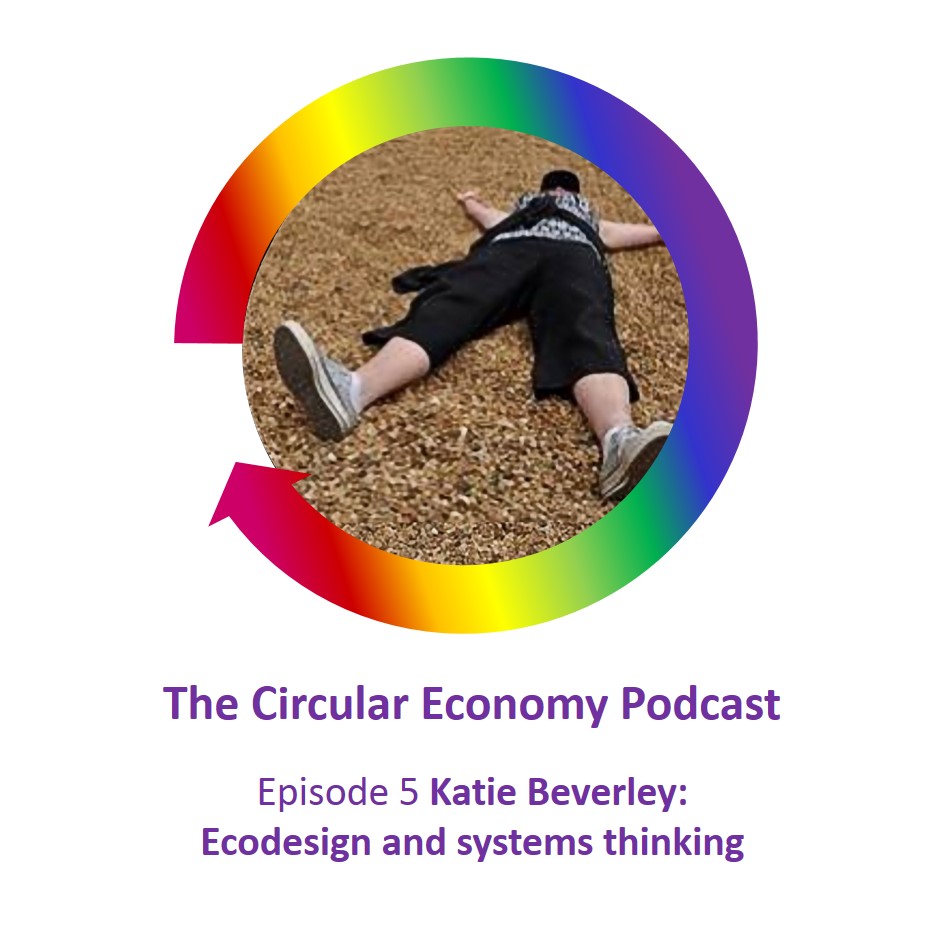 About Katie
Katie is a Senior Research Officer with Ecodesign Centre, PDR, Cardiff Metropolitan University.  Ecodesign Centre works with academic partners and the public and private sector, to embed ecodesign, circular economy and sustainable thinking into products and services. 
Katie hopes her work goes some way towards offsetting the environmental impacts of the weekends she spends watching endurance motor racing – although she is learning to live with the guilt, whilst keeping a watching brief on ultra-low emission powertrains.
Podcast sections
[00:00] Katie and Catherine first met at Transitions 2 the University of Huddersfield in 2018.  Katie tells us about her background, and how having originally trained as a chemist, she joined the Ecodesign Centre at PDR.  This was after  Post-Doctorate roles at The University of Leeds, then The University of Huddersfield.
Katie's deepening interest in sustainability led to questions about what a 21st Century design course should include, realising that sustainability was a critical, yet missing element.
Ecodesign
[04:24] We explore Ecodesign and the circular economy, and how they compare.  Katie explains that Ecodesign takes a lifecycle approach.  Each stage of the lifecycle has a different set of activities to focus on, and Ecodesign looks at where the biggest impacts might be, and how they could be reduced in the design phase.
For example, in selecting materials: which materials should you choose?  Could you minimise them, could you select lighter weight materials?  For production: where could you produce, how will you distribute?  What about the 'use' phase: what impacts are there, and what improvements could you make?
A 'critical friend' of the circular economy
[06:47] Katie feels the circular economy still has "teething problems", and she challenges the "almost optional" nature of looking at lifecycle impacts common to most circular economy approaches.  She feels there is often too much emphasis on improving end of life options. 
She suggests thinking about the lifecycle of your product or service, and thinking about whether there are other ways to improve sustainability and create value, instead of redesigning the product. 
We discuss the example of microfibers – recycled polyester might be more circular, but do we know whether this risks allowing more microfiber shedding during use and washing – or is it on a par with virgin polyester?
[09:31] We agree that the circular economy is much more than recycling, but that there isn't a broad understanding of what the circular economy is, and what it could be with a systems-thinking, full lifecycle approach.
Designing for the circular economy
[11:13] We discuss how to apply the Ecodesign approach for a circular economy, with the essential need to consider the business or product as part of an open, global system.  This means considering stocks and flows of materials, balancing the needs of different sectors.  For example, how would you balance the long-term needs of electrical products versus buildings? To succeed, we need to use a different mindset:  thinking about the global impact of your product and service, at every stage of its life.  We agree there is a need for policy to help guide business decisions and balance society's needs.
Katie's favourite project
[16:22] Katie tells us about her favourite Ecodesign, the Remade program from Welsh office furniture maker Orangebox, in partnership with Premier.  They launched their first project, the G64R office chair, in 2016.  The furniture is restored to 'good as new condition' at Premier Sustain's Renew Centre, in London, and contains 80 per cent recovered or recycled content.  It is backed up by the same warranty as a new product.
The benefits are impressive.  Each remanufactured chair saves 32kg of CO2 (e), a 60% reduction in total compared to a new G64.  98% of parts are recyclable with removed components either kept for reuse or returned to Orangebox's locally based suppliers for reprocessing into new parts.  And water footprint analysis has demonstrated a G64R saves 75% of water consumption compared to new.
Planning for future generations
[19:13] Returning to the need for government policies that support long-term, systemic approaches, Katie tells us about the Welsh Government's legislation: 'The Wellbeing of Future Generations', and gives another remanufacturing example.  This one is a collaboration, for Public Health Wales, with Orangebox, non-profit flooring company Greenstream, and Rype Office [disclosure: Catherine is a minor investor].  This project saved an impressive 134 tonnes of CO2 and showed how circular approaches can create local jobs and social benefits.
Tips for getting started with circular approaches
[21:32] Katie tells us about her favourite Ecodesign strategy tool, the LiDs wheel, originally developed by TU Delft University.  Other tips include asking "do you really need this product?"  Katie reminds us to consider users as well as other stakeholders.  Collaboration with a range of stakeholders is incredibly useful, even at the product concept stage – especially if your design needs a change in user behaviour.
We talk more about 'user-centred design': don't ask the user what they want (Catherine reminds us of Henry Ford's 'faster horses' adage), but translate requirements into 'latent needs' rather than 'direct needs'.  It requires a more engaged, creative approach to design, collating and translating what you've learned into something you can test.  The aim is to balance user needs with the needs of our planet.  Getting the input from a wide range of stakeholders is more likely to result in a successful design.  Katie recommends an article on Bee Centred Design, on Medium.
[28:57] An example of this approach is the Adidas Super Loop shoe, made from a single material so that it is much easier to recycle.  Katie tells us about Adidas' beta testing programme, with users becoming stakeholders in the end result.
Favourite circular economy project
[31:00] Katie's favourite circular economy example is Riversimple, a hydrogen-powered car being developed in Wales.  The design brief was for a sustainable business.  Katie explains some of the unusual business model and supply chain design approaches used by Hugo Spowers and the Riversimple team, including providing the car as a service. 
[35:00] Finally, we wrap up the interview with how to contact Katie and the PDR Centre for Design and Research.
Links we mention in the episode
Want to find out more about the circular economy?
If you'd like to learn more about the circular economy and how it could help your business, why not listen to Episode 1, or read our guide: What is the Circular Economy? 
To go deeper, you could buy Catherine's book, A Circular Economy Handbook for Business and Supply Chains.  This takes a bottom-up, practical approach, with lots of real examples from around the world.  It helps you really 'get' the circular economy, and come up with ideas to make your own business more competitive, resilient and sustainable.
Please let us know what you think of the podcast…  and why not help accelerate the circular economy by helping others find us – please leave a review on iTunes, or wherever you find your podcasts.  Or send us a Tweet: @Rethink_Global.
Podcast music
Thanks to Belinda O'Hooley and Heidi Tidow, otherwise known as the brilliant, inventive and generous folk duo, O'Hooley & Tidow for allowing me to use the instrumentals from the live version of Summat's Brewin' as music for the podcast. You can find the whole track (inspired by the Copper Family song "Oh Good Ale") on their album, also called Summat's Brewin'. Of follow them on Twitter.