Dignified Wear in Ghana | The Thingery | ikigai for business purpose | Terracycle: doing the right thing for people and planet | Digital platforms for fashion supply chains | Fashion's reset? | HP and Circular Computing |
We help entrepreneurs, companies and business leaders discover and use the circular economy – to build profitable, resilient, sustainable and successful businesses.  We believe in a circular economy that is fair, transparent and inclusive, to create a better world for everyone. 
Welcome to the latest round-up of what we've shared, and what's inspired us.  In this issue:
Episode 28 of the Circular Economy Podcast, with Chris Diplock of The Thingery
Episode 29 of the Circular Economy Podcast, with Mabel Suglo of Dignified Wear
Blog: Use ikigai principles to align your business purpose for people, planet & profit
What we've been reading & listening to
Circular innovations
Thank you letters
Did you receive this email from someone else?  You need your own!  Stay in touch for free circular economy insights and updates, direct to your Inbox.
Don't want to hear from us any more? Just unsubscribe!
Episode 28 of the Circular Economy Podcast, with Chris Diplock of The Thingery
Chris Diplock is the Founder and CEO of The Thingery, the parent organization of neighbourhood Thingery branches, and a leader in Vancouver's collaborative economy. You could describe the Thingery as a 'library in a box' – the box being a shipping container! The containers are solar-powered and so can be sited in disused spaces near the communities that will use them. Technology allows people to access the container and then use the built-in systems to easily log what they are borrowing or returning.  That means it is less reliant on volunteers, and can be open 24/7 if needed. Chris wants to make it easy for any community, worldwide, to set up their own Library of Things. We hear about the concept, the funding model, and the practicalities….
BTW apologies if you downloaded the podcast to find Episode 27 audio attached… we corrected it a few days later.
Episode show notes and audioplayer here
Find the podcast series on iTunes,  Google Podcasts,  PlayerFM, Spotify, TuneIn, or search for "circular economy" in your favourite podcast app.
PS We'd love it if you could post a review, and help other people find us!
Episode 29 of the Circular Economy Podcast, with Mabel Suglo of Dignified Wear
Mabel Suglo founded Dignified Wear, a social enterprise in Ghana aiming to economically empower people with disabilities and rural women through decent jobs. It trains and then employs them to handcraft durable, versatile and fashionable shoes, handbags, locally woven fabrics, clothing and traditional jewellery.
Dignified Wear uses circular economy principles to turn waste into value – with products made from recycled tires, scrap fabrics, cotton threads, recycled glass and plastic bottles. Dignified Wear also aims to inspire communities to be creative about reusing materials, extending their lifecycle and at the same time, reducing waste and pollution.
Mabel is an international award-winning social entrepreneur with many accolades from around the world, including from the president of the Republic of Ghana, and she has been featured on both local and international media such as the BBC, CNN and Huffington Post.
Episode show notes and audioplayer here
Blog: Through the lens of this pandemic, is your business providing what the world needs? Use ikigai principles to align your business purpose for people, planet & profit
Ikigai is a Japanese philosophy dating back three millennia, and translates as a 'reason for being'. It helps people get clear on their purpose in life, leading to wellbeing and satisfaction. As companies begin to emerge from the Coronavirus lockdown and rebuild more resilient, sustainable businesses, we look at how to use ikigai principles to clarify and realign business purpose for people, planet and profit.
What we've been reading & listening to
Tom Szaky, founder and CEO of TerraCycle and Loop reusable packaging was interviewed for the Being Human podcast. Tom explains how doing the right thing, for planet and people, creates value for TerraCycle.  The podcast show-notes summary says:
Why for-profit companies beat non-profits in saving the world
How being purpose-driven leads to negative marketing budgets
How they have no crime incidents despite their location
How growing up in communism has made him a better capitalist
The issue with framing big corporations as evil and how to make them care
Board of Innovation published a report on the post-Covid-19 world, looking at business model pivots emerging from the 'low touch economy'.
EDIE's coverage of the recent announcement from Google and WWF, about their new online digital platform, lists other useful digital tools  for fashion teams:
The C&A Foundation is working with geospatial technology firm Azavea to develop an open-source digital map of fashion supply chains and working with blockchain startup Bext360, the Organic Cotton Accelerator and Fashion For Good to use blockchain to improve the transparency of fashion brands' cotton supply chains.
Another digital mapping tool for fashion supply chains comes from environmental non-profit Canopy. EDIE says the  'ForestMapper tool, which lays bare the deforestation impacts of fashion supply chains, has received funding and pledges to use from H&M, Marks & Spencer (M&S), Inditex and Kering.'
EDIE reminds us that transparency is 'a pre-requisite to improving environmental and social performance.'
In May, a call to support "The Fashion Industry's Reset" got lots of coverage. The British Fashion Council (BFC) and the Council of Fashion Designers of America (CFDA) have joined forces and issued an open letter calling for a global "reset" on how the fashion industry does business and presents its collections.   'The Fashion Industry's Reset' says the Covid-19 pandemic opens up an opportunity for the fashion community to "rethink and reset" the way in which fashion brands and designers show their collections as well as how they work, including a focus on "no more" than two collections a year. Read more on the FashionUnited website here
In my blog on ikigai, I note that even fashion house Gucci is looking in the mirror. Announcing a move away from five annual fashion shows, the studio's creative director, Alessandro Michele announced that Gucci would show a "seasonless" collection, twice a year. According to Jess Cartner-Morley in the Guardian, Michele's diary entries on Gucci's Instagram account, in May 2020, raised the problem of sustainability. "Above all, we understand we went way too far," Michele wrote. "Our reckless actions have burned the house we live in. We conceived of ourselves as separated from nature, we felt cunning and almighty."
Circular innovations
Rematec reports that "In an unprecedented move, Circular Computing's carbon-neutral remanufactured Hewlett-Packard (HP) laptops are being promoted to consumers alongside a brand-new model – by HP itself." HP is responding to the extra demand for laptops as more people work from home, and children are home-schooling.
You can hear Steve Haskew explaining Circular Computing's approach, and how it meets the needs of the various functions involved in the 'buy remanufactured' decision, in Episode 24 of the Circular Economy Podcast. 
In a follow-up blog, Catherine explored one of Steve Haskew's comments, putting the case for "semi-circular strategies" being a step in the right direction: "Why 'semi-circular' strategies are a sustainable step forward"       
Thank you letters
Peter sends his thanks to the  United Nations Systems Staff College for providing the excellent circular economy course he is doing at the moment. The 5-week online course has a good mix of resources, exercises, webinars and speakers. The course requires 5-6 hours a week and there are interesting attendees from universities, NGOs, governments and more all around the world.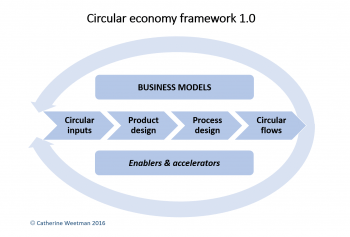 In week 3, the webinar included one of Catherine's diagrams from  A Circular Economy Handbook for Business and Supply Chains – thank you UNSCC 🙂 
The course is running again in November 2020, you can apply via the United Nations Systems Staff College website.
Simon Lamb gave Catherine a copy of his new book Junglenomics – thank you Simon 🙂 It promises some interesting insights, particularly in our current health emergency with an urgent need to change the way we see things. 
Simon says: This book is therefore not some fiendishly cunning plan of my own to save the world – to rescue humanity from its own suicidal tendencies – far from it. It is Nature's. It has been developed over billions of years, producing all the great wonders of Life that so amaze us, including of course ourselves. Junglenomics is merely an instrument to explain how Nature's blueprint can – indeed must – be applied to the economic world without delay to guide it to safer waters, just as it nears the reefs.
So why should you read this book? Because it contains a new and important truth about economic world and a science-based manifesto for change at a time of great need for it. Why should you believe this? Because I come to this greatest issue of our time not only with many years of private study and thought, but also armed with a lifetime of experience in business and investment markets, a close affinity with the natural world and the cycle of the seasons, an unswerving belief in Darwin and in the ubiquity of natural processes, and a passion for the subject that is absolute and unconditional.
Catherine's just started reading it, so we'll report back soon!
Thanks to Holland Circular Hotspot for publishing the blog Peter wrote for the African Circular Economy Network on how the circular economy can help solve the climate crisis.  
Read the blog here
[Peter is co-founder of the African Circular Economy Network]