'Headline-grabbing' examples of plastic circular economy initiatives risk undermining progress. We argue that instead, we should focus on regenerative approaches and consider the 'big picture'.

Recently, I've complained that it feels like the circular economy is being watered down, as I see so many 'headline-grabbing' initiatives that are just a tiny bit 'less bad'. Focusing on how new systems, products and materials actually help regenerate resources, living systems and communities could provide a clearer path forward and encourage people (and business and policymakers) to 'do more good'.
In this blog, I've chosen a few recent examples of plastic circular economy initiatives, illustrating what we could describe as the good, the (less) bad and the ugly. I hope they help you consider the 'big picture' impacts for circular and sustainability ideas you may have, so you can think about how to maximise positive impact and avoid unforeseen consequences (and reputational risk!).
In previous blogs, we've made the case for Why reuse is #1 tool in the circular economy toolkit and Why we can't recycle our way to a sustainable future.  Recently, Alexandre Lemille's post on LinkedIn gave a shout-out to Bill Reed's 2007 diagram, the Trajectory of Environmentally Responsible Design. We like Alexandre's work, advocating the need for a 'humansphere' in circular economies. (Alexandre is one of Peter's co-founders at the African Circular Economy Network.)
Seeing Bill Reed's diagram reminded me of a slide I've used in past presentations, in turn inspired by Ken Webster in one of his talks for the Ellen MacArthur Foundation (see image below).
Ken built on the work of both Bill Reed and William McDonough (Cradle to Cradle), creating a slide to show a series of progressions from 'business as usual' (within the law), through 'Green' (less bad), Sustainable (100% less bad), to Restorative and finally to a Regenerative Economy. (Bill Reed's original (2007) article and his diagram is available here.)
Bill Reed's original diagram sketched a scale, from 'degenerative' through to 'regenerative' approaches. Reed highlighted one of the key issues: degenerative approaches all consume more energy than those above the 'sustainability' mid-point.
So let's look at some of those headline-grabbing circular plastic announcements, and ask how they measure up on that degeneration to regeneration scale.
An article on edie.net on 10 March, headlined "Mondelez and PepsiCo set new plastic pledges following non-profit discussions" described commitments made by the two food giants after discussions with the non-profit campaign group As You Sow. Both companies agreed to cut the use of virgin plastics in their packaging. Although the leading number for Mondelez's reduction target for 2025 looks impressive – "the company expects to deliver a 10,000-tonne reduction in plastic use", on closer inspection the changes seem less so. Mondelez – a member of the Ellen MacArthur Foundation New Plastics Economy Global Commitment – expects it will result in a "5% absolute reduction in virgin plastic used in packaging, including a 25% reduction in its rigid packaging" against a 2020 baseline.
Meanwhile, Pepsico has "committed to setting a time-bound reduction target, but is still assessing the size of the cuts it will pledge to make. An announcement is expected later this year." And yet that still made a headline.
As You Sow describes itself as the US "non-profit leader in shareholder advocacy. Founded in 1992, we harness shareholder power to create lasting change that benefits people, planet, and profit." It publishes surveys and files shareholder proposals with consumer goods companies and retailers, calling for commitments to absolute cuts in the use of plastic packaging. 
Edie.net also reported on As You Sow's 2020 survey of 50 of the largest consumer-facing goods firms, including PepsiCo, Kraft Heinz and Kellogg, which found that companies are generally failing to take ambitious action on plastic pollution, despite lofty pledges to do so. Whilst headline-grabbing, these targets seem unambitious and unlikely to create a successful circular economy for plastics.
As You Sow scores the companies across six categories, grading them A (best) to F (worst) in each category:
Packaging design
Reusable packaging
Recycled content
Packaging transparency
Supporting recycling
Producer Responsibility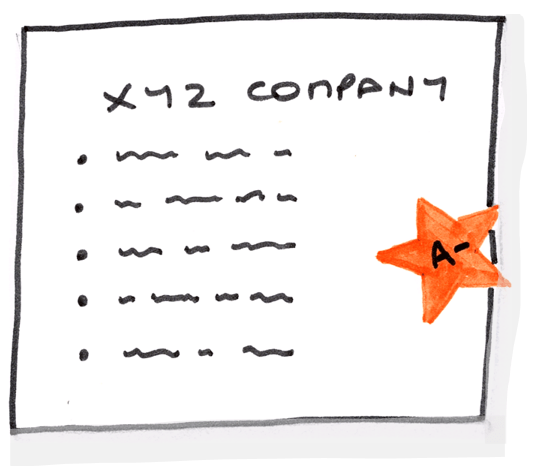 As You Sow's press release notes that "the largest cut in overall plastic use to date by a major consumer goods company was a 2019 commitment by Unilever to totally eliminate 100,000 tons of plastic packaging by 2025." It plans to achieve this by increasing the recycled plastics it uses and by collecting and processing more plastic packaging than it sells. As You Sow's 2020 report scores Unilever – the top performer in the list of 50 companies – at B minus. You can download the full report here.
We know that recycling should be our last resort in a circular economy, requiring lots of energy and logistics, and wasting much of the embedded value and resources (materials, water, labour, process chemicals, energy along the supply chain etc) in the original product. With that in mind, it was encouraging to see this blog on the World Economic Forum this month, highlighting that we can all play our part in reducing plastic pollution by making slight changes to our shopping habits and supporting our local zero-waste businesses. Blog author Christian Kaufolz notes that "governments, businesses and consumers are increasingly realizing that recycling is not enough to address plastic pollution, and more action is needed at the upstream level."
Kaufolz highlights three companies leading the way on these initiatives, including reusable packaging start-up Algramo. (Have a listen to Brian Bauer of Algramo explaining how it solves the 'poverty tax' works in Episode 42 of the Circular Economy Podcast.) Algramo started in Chile, and is now expanding into the US and Europe, partnering with global brands like Unilever and Colgate Palmolive.
Also featured are Muuse, helping to eliminate disposables by creating a network of cafes where consumers can collect and return reusable cups and containers, and MIWA, providing retail stores in Europe with dispensing equipment and reusable capsules for both food and non-food products. Once emptied, the capsules are cleaned and sent for refill by the producers and brands. The MIWA range is suitable for a wide range of products including rice, nuts and dried goods, cleaning products and more. Consumers can fill up their own reusable MIWA containers, and use a convenient app to manage the refills and payment.
We featured another example of innovative reusable packaging for 'on the go' food and drinks in Episode 13  of the Circular Economy Podcast. ARK Reusables, from Ozarka, offers returnable, responsible, sustainable, zero-waste takeaway boxes for prepared food businesses, through food outlets in Amsterdam and Utrecht in the Netherlands. Its ARK Reusables food-to-go containers are made from reusable recyclable silicone, and pack flat so they are easy to carry.
It's worth reminding ourselves that we should be 'designing waste out' of the system, instead making sure all waste = food. In other words, waste should instead become a feedstock for another process – either another industrial process, or food for nature (eg compost!). When this is a regular exchange between two separate organisations, it's known as 'industrial symbiosis' (you can find out more by listening to Elaine Kerr of International Synergies in Episode 8 of the Circular Economy Podcast).
So, when I noticed posts on LinkedIn extolling the virtues of new 'Fluff Sugar' shoes from Ugg (part of the Deckers Brands), I took a closer look. This article in Footwear News says the shoes are "manufactured with materials that help reduce carbon emissions and that are more biodegradable than traditional footwear ingredients." It notes that the shoes "feature a foam outsole made of renewable sugarcane, called SugarSole, while the soft, fluffy uppers are produced using plant-based Tencel Lyocell, which transforms wood pulp into fibers."
The Ugg sustainability website describes the SugarSole™ outsole: "a foam composition which reduces our dependency on fossil fuels by replacing conventional materials with renewable biobased content." It explains that the "SugarSole™ is made using swift-growing, rainwater-fed, renewable sugarcane. Ethylene is extracted from the sugarcane, which is then converted into EVA, ready to be made into soles."
Ugg says that using sugarcane as a source for the ethylene "provides a more sustainable alternative to petroleum based, non-renewable materials often used in conventional footwear," adding that "as well as providing an alternative to fossil fuels, sugarcane captures CO2 from the atmosphere and sequesters carbon." 
That all sounds positive… until we consider that sugarcane production is problematic. Sugar is widely acknowledged to cause disease, obesity and dental decay for humans, and criticised in many research papers for its adverse environmental impacts. WWF highlights issues of water-intensity, soil erosion and widescale impact on biodiversity. WWF says "some of the most biodiverse regions on the planet have been cleared for sugarcane production. A dozen countries around the world devote 25 percent or more of all their agricultural land to the production of sugarcane." Thinking about the system-scale effects, I'd suggest anything that helps sugarcane become more financially attractive will encourage more farmers to grow it, with knock-on effects for human health, biodiversity loss and soil erosion.
It's vital to consider whether the feedstock we plan to use is sustainable in the first place. That means asking whether using this 'waste' or by-product helps create a more sustainable system overall – or risks supporting a system that already has deep-rooted sustainability issues. For example, remanufacturing is a key circular economy approach – but what if remanufacturing (say) diesel engines meant they stayed in a usable state for another decade, and so incentivised people to stick with diesel instead of switching to electric cars? From a system perspective, remanufacturing those diesel engines might be a bad choice.
Do more good, not a bit 'less bad'
What conclusions can we draw?
It seems to be easy to gain attention in the media with small-scale circular actions or intentions – even with media organisations that seem to trying to support more sustainable ways of doing business. But do these incremental improvements, or circular initiatives that may have unintended or adverse consequences, help your organisation become more future fit? Do they help people and our planet? If they're on the 'less bad' end of the scale, your reputation might be harmed, not helped.
Catherine Weetman advises businesses, gives workshops & talks, and writes about the circular economy. Her award-winning Circular Economy Handbook explains the concept and practicalities, in plain English.  It includes lots of real examples and tips on getting started.