A Circular Economy Handbook! | Odyssey Innovations: kayaks with purpose | Oceans & climate | Unilever doubling down on sustainability | Future-fit taxes | Reviving shoes
A Circular Economy Handbook 2nd edition out now - save 20%
We help entrepreneurs, companies and business leaders discover and use the circular economy – to build profitable, resilient, sustainable and successful businesses.  We believe in a circular economy that is fair, transparent and inclusive, to create a better world for everyone. 
Welcome to the latest round-up of what we've shared, and what's inspired us. In this issue:
A Circular Economy Handbook 2nd edition out now – save 20%
Episode 39 of the Circular Economy Podcast, with Rob Thompson of Odyssey Innovation
What we've been reading & listening to: Philippe Cousteau Jr on why the oceans are so important for climate; Alan Jope of Unilever on why sustainability is now central to its strategy; Femke Groothuis of the Ex'Tax Project on why green taxes will help our economies be future-fit
Circular innovations – Revivo shoes
Did you receive this email from someone else?  You need your own!  Stay in touch for free circular economy insights and updates, direct to your Inbox.
Don't want to hear from us any more? Just unsubscribe!
A Circular Economy Handbook (2nd edition) - out now
At last! After being 'furloughed' over the summer as the UK book industry went into lockdown, with printers and wholesalers all either closed or understaffed, the 2nd edition of Catherine's award-winning book is now on sale. Whoopee! Read on to see how to use the discount code…
What circular approaches are emerging in food, fashion, consumer technology, packaging and other sectors? How do these reduce risk, improve resilience and build profitable, future-fit organizations? With over 300 real examples from around the world, this is a must-read for businesses, students and policymakers.
A Circular Economy Handbook: How to Build a More Resilient, Competitive and Sustainable Business, published by Kogan Page, explains the what, why and how of the circular economy.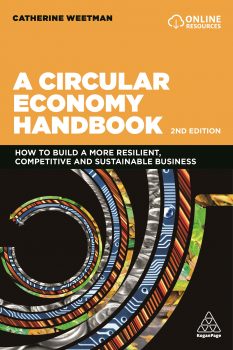 The new edition  includes extensive updates, builds on the latest research on circular business models, has a new chapter on packaging and over 100 new examples. You can save 20% when you buy the book from Kogan Page (shipping worldwide) by using code CIRCL20 at the checkout.
"This is a book for everyone in business, or who wants to shape the future of business. The circular economy is the best toolkit we have for future sustainable business and this book leads you through what it is and why so many businesses and governments are getting on board."
Tom Szaky, Founder & CEO, TerraCycle
"A very good guide, avoiding jargon and bringing concepts to life with clear explanations and concrete examples. It covers everything you need to know about 'going circular' but also goes further, reviewing criticisms and setting the bar higher." 
Stephan Sicars, Managing Director, Directorate of Environment and Energy, United Nations Industrial Development Organization (UNIDO)
Thank you to the editorial, publishing and marketing teams at Kogan Page, and to all those people who helped with feedback and provided endorsements. And a big thank you to Richard James MacCowan and Katie Beverley for their new sections on biomimicry and ecodesign.
Podcast #39 with Rob Thompson of Odyssey Innovation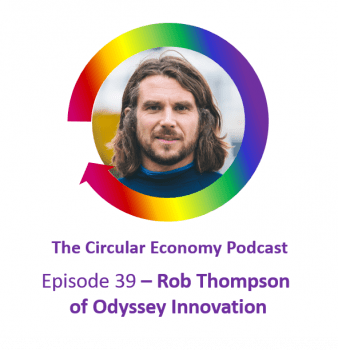 Rob Thompson, from Plymouth in the south-west of England, is a multi-award-winning innovator, marine conservationist, and a social entrepreneur.
Rob started Odyssey Innovation to find a way to create value out of beach litter and marine plastics, and is now recycling those plastics into kayaks and other useful products. Rob also supports the Paddle for Plastic campaign.
Rob was aware of the critical and increasing problem of plastic pollution in the oceans, and started doing clean-ups in his kayak. He realised there were three recurring obstacles:
How to access the inaccessible coves, estuaries and other areas not frequented by the regular beach cleaners;
How to dispose of the plastic we generated through our clean-up operations;
How to fund the running costs of doing this.
Rob used circular economy principles to solve three problems,  launching Odyssey Innovation to recycle marine plastic into kayaks and other products. Creating a plastic loop to convert marine litter into something that makes it easier (and fun!) to collect marine litter feels like a perfect example of purpose-driven entrepreneurship.
Listen to the episode and read the show-notes: https://www.rethinkglobal.info/episode-39-rob-thompson-of-odyssey-innovation/
Find the podcast series on iTunes,  Google Podcasts,  PlayerFM, Spotify, TuneIn, or search for "circular economy" in your favourite podcast app.
PS We'd love it if you could post a review, and help other people find us!
Outrade + Optimism podcast
We've mentioned this brilliant podcast series, co-hosted by Christiana Figueres, Tom Rivett-Carnac and Paul Dickinson, a few times.
Now in its second season, it highlights 'how we can channel the outrage we see on the streets (and online) about incremental actions in the face of the climate crisis, toward the stubborn optimism needed to forge ahead with ambition. The team believe both are necessary. Each week's discussion aims to inform, inspire and help listeners realise that this is both the most challenging, but also the most exciting time in history to be alive.'
Episode 67 – Longing for the Endless Immensity of the Sea with Philippe Cousteau Jr.
This interview ties in nicely with our interview with Rob Thompson about his circular economy kayaks, made from marine plastics. Philippe Cousteau Jr, grandson of the famous Jacques Cousteau, explains why the oceans are so important to our climate and weather. Philippe explains the importance of oceans and estuaries in absorbing carbon, why mangrove regeneration and conservation is critical, and why we should avoid eating warm-water shrimps.
In Episode 64, Alan Jope, the new(ish) CEO of Unilever explains how Unilever is responding to the challenges of the pandemic by staying true to its values, prioritising people and communities. Talking about the early years of Unilever's story, Alan relates stories about how Unilever supported its workers and their family during the first world war, and explains how those values still hold true today. Now, Unilever is 'doubling down' on the ambitious sustainability program developed by the previous CEO, Paul Polman, by embedding it at the core of the business strategy. In this inspiring interview, Alan Jope talks about some of the ways sustainability engages employees, build brand value and is better for people and planet.
Future Fit Taxes
In the Big Closets, Small Planet podcast with Michael Schragger – THOUGHT LEADERSHIP episode, Femke Groothuis argues that tax reform is the best way to transform the apparel industry at the scale and pace required (Episode on June 24th, 2020)
This podcast series is supported by the Sustainable Fashion Academy, and interviews guests with hard-hitting insights and ideas for how fashion can reduce its footprint.
In this episode, Femke Groothuis of the Ex'tax Project tells us that:
In the 36 countries of the OECD, 51% of all tax revenues are based on labour taxes – personal income tax, payroll taxes and social contributions. And these labour taxes have been on a rising trend over the past 10 years.
Green taxes on natural resources only provide 5% of government budgets across the OECD –  and that is on a downward trend.
In most parts of the world, labour taxes provide a significant share of revenues, and substantially more than green taxes.
We're not taxing the resources and pollution and we're subsidising pollution around the globe – annually $300 billion worth of subsidies are provided to fossil fuel users. IMF researchers estimate that the external costs of fossil fuels are $5.2 trillion per year.
As Femke says: "These are fundamental drivers in our economies. Entrepreneurs have become really creative in developing business models that save labour costs and gain efficiency, even if it means using more resources and more energy."
So It's not a level playing field…wherever you are in the world. We're taxing labour (when we need more jobs and fair pay) and both subsidising and failing to tax waste and pollution.  Femke argues that green taxes could pay for public investment in R&D, infrastructure, skills, poverty reduction and so on. Ex'Tax has done some really interesting work looking at tax reform with case studies for Bangladesh and Finland. Find out more here https://ex-tax.com/#ourstudies
Circular Innovations – Revivo shoes
One of Catherine's favourite brands, Vivobarefoot, has launched subsidiary brand Revivo, to resell returned or refurbished shoes. Describing itself as 'the first re-commerce site for reconditioned footwear', Revivo says:
'The brutal truth is that billions of shoes are thrown away every year. It takes 1000's of years for most of them to rot in landfills – causing colossal harm to the environment. Revivo is our answer to this senseless waste. A repaid service that rescues, revives and professionally repairs shoes that still have something to give. Reducing waste and environmental harm.
There are three levels of 'condition' – Excellent, Great and Good – so you can be confident of choosing shoes that meet your requirements. Catherine's already bought 2 pairs, both were in excellent condition and should last for years to come.