From problems to solutions | Circular Baby Clothes | Renting is the 'new normal' | Consumer attitudes
Small steps and giant leaps
We're into January, and it's Davos time… hearing what political and business 'celebraties' have to say about the state of our world.  The press are looking forward to hearing from Donald Trump and Greta Thunberg.
In this issue:
Episode 18 of the Circular Economy podcast, with Eve Kekeh of Bundlee
Why renting clothes is the 'new normal' – Catherine's blog
Consumer attitudes
What we've been reading:  Living in a material world
Did you receive this email from someone else?  You need your own!  Stay in touch for free circular economy insights and updates, direct to your Inbox.
Don't want to hear from us any more? Just unsubscribe!
As global business leaders and senior government officials head towards Davos for the annual World Economic Forum (WEF) meeting in Davos, commentators are noticing that whilst the WEF Risk Report has included climate in its top 5 risks every year over the last decade, the WEF hasn't succeeded in persuading big business to take decisive and positive actions on climate or our ecological crisis. 
In the 2020 report,  the WEF points out that 'Climate-related risks overshadow all other risks – in particular, economic risks'.  As BlackRock's Larry Fink writes in his well-publicised 2020 letter to CEOs, 'the investment risks presented by climate change are set to accelerate a significant reallocation of capital, which, in turn, will have a profound impact on the pricing of risk and assets around the world.'
But what is happening? Which companies are taking decisive action?  This week, one company has just announced an ambitious plan.  Microsoft has committed to actively remove carbon from the atmosphere — going "carbon negative" by 2030.  Even better, by 2050, Microsoft pledges it will "remove from the environment all the carbon the company has emitted either directly or by electrical consumption since it was founded in 1975."
Podcast Episode 18 - Eve Kekeh of Bundlee
In the latest podcast, we talk to Eve Kekeh, founder of Bundlee, the UK's first baby clothing rental subscription. As a youngster, Eve noticed just how much stuff her baby siblings seemed to need.  Later, when living in the US, she noticed how renting fashion was 'the new normal', and that sparked her ideas for a business. 
Eve started Bundlee to give parents a sustainable alternative to buying clothes that will be outgrown very quickly.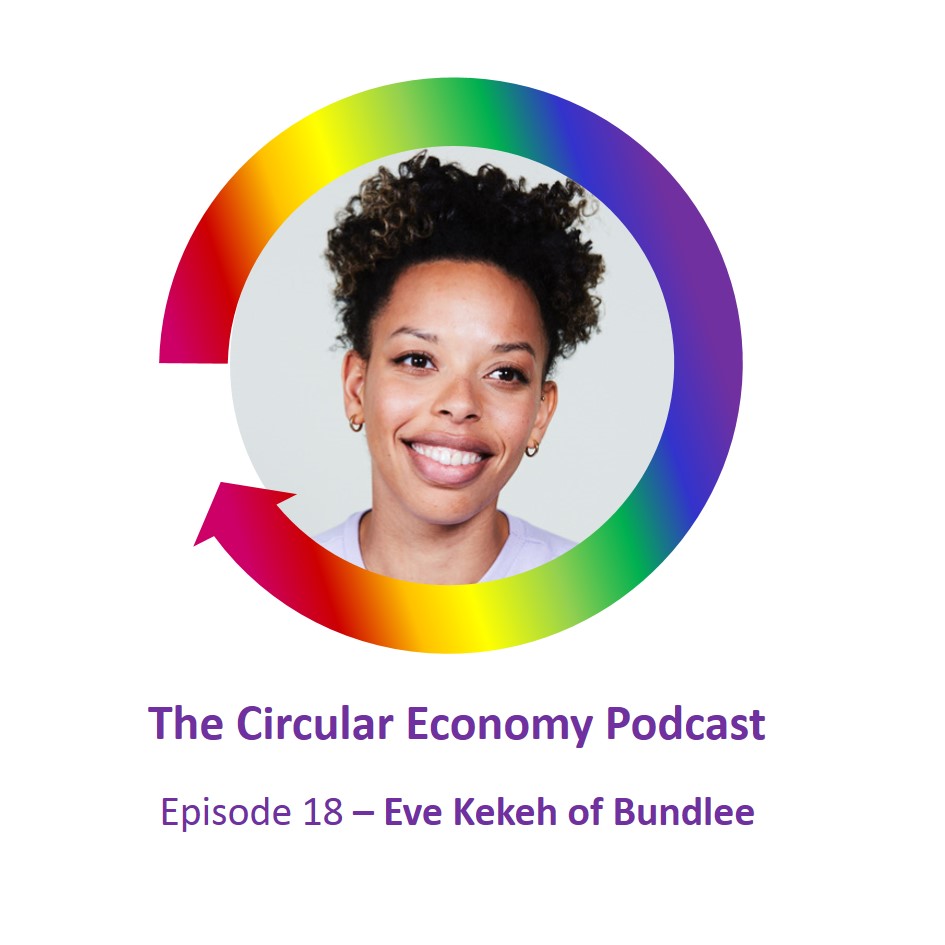 With Bundlee, parents can rent their baby's wardrobe and swap clothes for the next size up whenever they like. Outgrown clothes are professionally cleaned before being sent to the next family. We find out how Eve researched to problems associated with babywear, uncover some surprising obstacles she had to overcome, and hear about some of the advantages of the rental and subscription business model – for the business and its customers.
Episode 18 show notes and audioplayer here. 
Find the Circular Economy Podcast series on iTunes,  Google Podcasts,  PlayerFM, Spotify, TuneIn, or search for "circular economy" in your favourite podcast app.
PS We'd love it if you could post a review, and help other people find us!
Why renting clothes is the 'new normal'
In many countries, renting clothing and fashion is going mainstream.  In the latest blog, we look at why it is better for people and planet, and how Eve Kekeh, founder of Bundlee, built a successful babywear rental subscription business by helping parents choose high-quality, sustainable options and get more value for money. We unpack the linear economy mindset of 'sell more', explaining why it's a race to the bottom, and look at how circular economy approaches are better for people and our planet.  Read more
As people are getting more engaged with solving our climate and ecological crisis, they are looking for practical ways to consume and waste less.  A couple of months ago, ING Bank published its international Circular Economy Consumer Attitudes Survey.  ING says 'People mostly agree on the biggest environmental challenges of our time and many say they already participate in a movement towards a circular economy by reusing and recycling resources, but our latest ING International Survey on circular economy finds consumers think initiatives from businesses and structural changes are required.' Full report from https://think.ing.com/reports/circular-economy-consumers-seek-help/